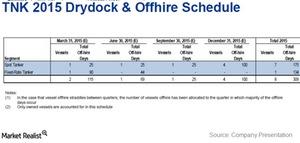 Teekay Tankers's drydocking and spot market estimates
By Katie Dale

Mar. 3 2015, Published 2:22 p.m. ET
Drydocking and off-hire days
Teekay Tankers' (TNK) fixed-rate tanker, Australian Spirit, is scheduled for drydock with 134 off-hire days in Lisnave. The drydock is fully covered by insurance with a minor deductible of approximately $225,000.
As the company does not record any loss of off-hire insurance, there will be a loss of revenue to the organization in the first quarter and early into the second quarter. While the ships are in drydock, TNK is taking steps to reduce its operating expenses by taking off some of the manning.
Article continues below advertisement
Spot market estimates
Teekay Tankers foresees higher earnings and free cash flow based on the company's exposure to the spot market. For every $5,000 increase in average spot tanker rates for the 12-month period ending December 31, 2015, free cash flow per share is expected to increase by $0.51 per share, compared to $0.35 per share for the year ended December 31, 2014.
The estimates indicate that Teekay Tankers holds a strong operating leverage to the firming spot tanker market. Currently, spot Aframax rates stands at approximately $30,000 per day. Based on current share price, free cash flow yield is over 30%.
Crude tanker fleet utilization
For 2015, Teekay Tankers crude tanker fleet utilization is expected to remain at high levels while spot tanker rates are expected to remain positive based on a shrinking mid-size crude tanker fleet. There is a continued increase in long-haul tanker demand as more crude oil moves from the Atlantic to Pacific basins.
The impact of low prices and the development of floating storage in the first quarter of 2015 are also expected to support positive tanker demand in the first half of 2015.
This would also benefit crude tanker companies like Frontline Ltd. (FRO), Nordic American Tanker Ltd. (NAT), DHT Holdings (DHT), and Teekay Corporation (TK). The iShares S&P 500 Index ETF (IVV) is a fund that invests in multiple sectors, including tankers.