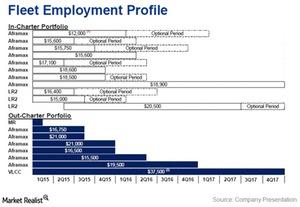 Teekay Tankers revenue growth and time charter-in vessels
By Katie Dale

Updated
Revenue growth
For the fourth quarter 2014, total revenues for Teekay Tankers (TNK) increased to $75.9 million from $42.2 million in the same quarter a year ago. Net pool revenues surged to $56.3 million from $19.2 million in the same period, contributing a major portion of the company's total revenue growth.
However, time charter revenue decreased to $17.8 million from $20.8 million in the same period. Voyage charter revenues multiplied several times from $0.13 million to $1.8 million.
Article continues below advertisement
Revenue days
The Teekay Tankers fleet has 11 in-charter vessels and spot exposure increased by approximately 3,900 revenue days for 2015. On a fleet basis, spot market exposure for the next 12 months now totals 37 vessels, or 85% of revenue days. This indicates that if the spot market rates rise, TNK is in a position to take the benefit and earn higher revenues.
Frontline Ltd. (FRO) recorded -5.9% revenue growth in the same period, followed by Nordic American Tanker's (NAT) 110.7%, DHT Holdings's (DHT) 135.4%, and Teekay Corporation's (TK) 10.4%. The iShares S&P 500 Index ETF (IVV) is a fund that invests in multiple sectors, including the tanker sector.
Total fleet TCE
Time charter equivalent (or TCE) per revenue day for Suezmax vessels increased to $25,727 in 4Q14 from $16,096 in 4Q13. For Aframax vessels, TCE per revenue day increased to $22,146 from $16,347. For the Long Range 2 vessels, TCE per revenue day recorded a significant increase to $21,884 from $12,901 in the same quarter a year ago, while Medium Range vessels TCE per revenue day stood at $23,857 compared to $22,279 in the same quarter in the previous year.
For 1Q15, Teekay Tankers's average time-charter equivalent rates stand at approximately $39,000 and $30,000 per day for its spot-traded Suezmax and Aframax vessels, respectively. This compares to $26,600 and $25,700 per day for 4Q14. For 1Q15, ~60% of spot revenue days are booked.
With the impact of low oil prices, crude spot tanker rates remained firm while Long Range 2 product tanker rates were supported by high levels of naphtha movements into Asia. Petroleum naphtha is an intermediate hydrocarbon liquid stream derived from the refining of crude oil.