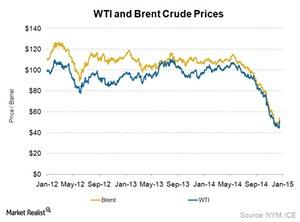 Teekay Tankers comments on its benefits from LR2 vessels sector
By Katie Dale

Updated
TNK comments
Teekay Tankers (TNK) comments that in mid-4Q14, fundamental tightness in vessel supply as well as the ongoing impact of low oil prices continued to strengthen firm crude tanker rates. High levels of naphtha moving into Asia provided ongoing support for robust Long Range 2 (or LR2) product tanker rates
Article continues below advertisement
Positive LR2 sector
Naptha trade to Asia is seasonal, and the oil price dip made naphtha a decent competitor to liquified petroleum gas (or LPG) for the chemical feedstocks into Asia. This leads to a lot of Middle East, European, and UK naphtha and increases voyage lines to the LR2s. And as long as oil prices stays low, Teekay Tankers believes the trend will continue.
Coupled with the 1.2 million barrels of additional capacity from Middle East new on stream refineries, there is a lot of positivity for the LR2 sector. This may benefit Frontline Ltd. (FRO), Nordic American Tanker Ltd. (NAT), DHT Holdings (DHT), Teekay Corporation (TK), and the PowerShares DB Oil Fund ETF (DBO).
Trading the LR2
Teekay Tankers's recent delivery of LR2 vessels were already trading in its Taurus pool. The fleet started generating revenues immediately upon delivery. Looking ahead, Teekay Tankers plans to deal with its revenues on a ship-by-ship and voyage-by-voyage basis.
TNK noted that the Luzon Spirit, which was delivered in early February 2015, went straight into dirty, because she's in an advantageous position to do so. In mid-February, Teekay Tankers took delivery of a vessel that is already fixed on a charter rate, a better position relative to the crude voyages in that position.