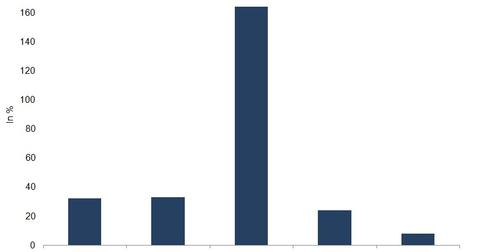 Teekay benefits from vessel acquisitions, time charter-in vessels
By Katie Dale

Updated
Vessel acquisitions
In December 2014, Teekay Tankers (TNK) agreed to acquire four LR2 product tankers and one Aframax tanker for an aggregate purchase price of $230 million. This was funded with a combination of equity offering of $125 million and debt financing of a $127 million loan.
The equity offering includes $20 million from Teekay Corporation (TK) to partially fund the acquisition, which increased TNK's owned fleet to 33 vessels from 28 vessels. Out of the five, two are already delivered, while three others are scheduled for delivery in February and March 2015. These vessels will trade in the Taurus LR2 Pool and Aframax RSA.
Frontline Ltd. (FRO), Nordic American Tanker Ltd. (NAT), DHT Holdings (DHT), and Teekay Corporation (TK) recorded fleet sizes of 33, 24, eight, and 164, respectively, in the same period. The PowerShares DB Oil Fund ETF (DBO) tracks the performance of crude oil.
Article continues below advertisement
Benefits of acquisitions
With the acquired five vessels that have an average age of 3.8 years, the average age of TNK's total fleet decreased by a year. These strategic acquisitions benefit Teekay Tankers in several ways. First, the low cash break-even enables the company to maximize earnings from the current robust spot tanker market.
Secondly, in the longer term, four LR2s provide flexibility and optionality to trade the vessels in either the crude or refined product segments depending on market conditions. Overall, the transaction is consistent with TNK's stated strategy to grow and renew its fleet, while increasing exposure to an improved spot tanker market.
Additional time charter-in vessels
Since October 2014, Teekay Tankers has secured time charter-in contracts for two additional Aframax vessels and one additional LR2 vessel, which increased Teekay Tankers's total time charter-in fleet to 11 vessels. The new time charter-in contracts have an average daily rate of $19,200 and firm contract periods of 12–24 months, with extension options.
These three vessels add approximately 900 days to the overall spot tanker exposure in 2015. In the first quarter of 2015 to-date, spot tanker rates have continued to strengthen with rates booked to date significantly higher than the rates realized in the fourth quarter of 2014.