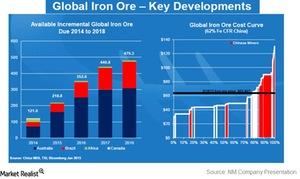 Shipping industry: Steel demand and imported iron ore substitution
By Katie Dale

Updated
Steel demand
Navios Maritime Holdings' (NM) management commented that, led by China's continued development and urbanization, steel consumption for 2015 and beyond is expected to be significantly higher. Infrastructure, housing construction, and consumer spending growth underpin future development.
During 2014, Chinese fixed asset investments continued to grow 15.7% year-over-year, or YoY. In addition, China exported a record 102 million tons of finished steel to customers worldwide. It was the cheapest marginal producer. This led to unseasonably low steel stock at Chinese steel mills. The iShares FTSE/Xinhua China 25 Index ETF (FXI) tracks the yield and performance of underlying companies in the industry.
Article continues below advertisement
Iron ore substitution
The Chinese domestic iron ore quality deteriorated. The iron content was in the 15% range. Imported ore had a 62% iron content. In 2014, Chinese iron ore imports were up 14% YoY. Domestic iron ore production only increased by 5%. Accordingly, in this relatively low price environment, it seems that low quality domestic iron ore is being substituted with imported ore. This trend is expected to continue.
Currently, there are planned expansions for global iron ore mines. The mines will come online over the next few years. They will add significantly to seaborne bulk commodity movements. While the majority of these expansions are in Australia, about 26% are expected to come from the Atlantic Basin in 2015. This will add ton miles. It will benefit companies like Diana Shipping (DSX), DryShips (DRYS), Safe Bulkers (SB), and Navios Maritime Partners LP (NMM).
Coal demand
With changing coal trades, China transitioned from being a net exporter of coal in 2009 to being the world's largest importer today. China's seaborne coal imports increased at over an 18% CAGR (compound annual growth rate) between 2009 and the provisional 2014 total. India's coal imports increased at a 22% CAGR between 2006 and the provisional 2014 total.
With projected increases in the steel production and coal-fired power generation, coal imports in both countries are forecast to grow over the next several years. Coal power generation continues to be the lowest cost base to produce electricity. This is especially important for emerging economies.