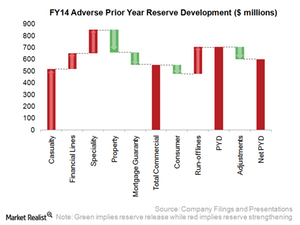 Reserve strengthening impacted AIG's earnings negatively in 4Q14
By Sean Millard

Updated
Property and casualty reserves
Insurance reserves represent the future claims that may arise for the pool of policies the insurer writes. For more information on reserves, please read our series An investor's guide to the insurance business.
Article continues below advertisement
Prior year developments
In a property and casualty (or P&C) insurance business, like that of AIG (AIG) and its competitors ACE (ACE), Allstate (ALL), and Chubb (CB), prior year reserve development implies the impact of changes in estimates of reserves for existing business. These estimated changes can arise due to movements in interest rates or changes in expected payouts.
When the existing reserve is found to be inadequate in light of changed estimates, a reserve strengthening is undertaken, resulting in a negative impact on earnings. On the other hand, excess reserves result in a reserve release, which flows through the earnings.
AIG's prior year developments
AIG saw an unfavorable reserve development in both fiscal 2014 and 4Q14, which impacted the company's earnings. In 4Q14, AIG's operating income after tax was impacted by a charge of more than $500 million for reserve strengthening and other estimate changes.
This resulted in a 40 cent per share negative impact when compared to a 97 cent per share operating income. These negative impacts were mainly related to business written in 2004 and prior years.
Article continues below advertisement
Commercial segment
As we can see in the chart above, the Commercial segment in 2014 was impacted the most by reserve developments. Primary Worker Compensation, Healthcare, Pollution, and International Financial Lines saw an adverse reserve development, while Property lines and the Mortgage Guaranty segment had a favorable development.
Other segments
In the Consumer segment, there was a comparatively smaller reserve release, which was offset by a negative development from older product lines (or run-off businesses), driven by pollution products business and other run-off portfolios.
Investors can gain exposure to insurance companies by investing in financial sector ETFs like the Financial Select Sector SPDR ETF (XLF).