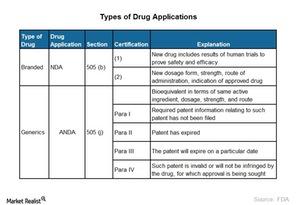 Regulations Are Instrumental in the Marketing Authorization Process
By Nicole Sario

Updated
Simplified marketing authorization process
To overcome the issues of the costly and time consuming marketing authorization process, the Hatch-Waxman Act introduced an ANDA (Abbreviated New Drug Application) process to make approvals efficient. As a result, it reduced the barriers to entry and the increased threat of new entrants. Companies weren't required to conduct clinical studies. Demonstrating the bioequivalence of the generic version has been sufficient.
An ANDA is filed with the FDA (U.S. Food and Drug Administration) to manufacture the following generic versions:
generic version of a branded product approved under the ANDA
new dosage strength for approved generics
Article continues below advertisement
Types of filings
An ANDA has four types of filings. The filings are in accordance to the type of certification submitted by a generic drug manufacturer against patents listed in the Orange Book. The Orange Book is a repository of patents with information including the composition, formulation, and use of an approved drug product.
There are four types of filings:
Para I – This filing is made for the launch of a generic drug whose patent information isn't filed in the Orange Book by a branded company.
Para II – This filing is made when the patent already expired.
Para III – This filing is made when a generic drug manufacturer intends to launch a generic drug after the patent expired.
Para IV – In this filing, a generic drug manufacturer deems that either the product won't infringe any patent covering the branded drug or such patents aren't valid or enforceable. For this filing, the branded drug manufacturer—patent holder—should be notified.
The leading US generic companies that are active in Para IV filings are Teva (TEVA), Mylan (MYL), Actavis (ACT), and Impax (IPXL). These companies' growth opportunities can be capitalized through pharmaceutical ETFs—like the S&P Health Care Select Sector Index (XLV) and the iShares U.S. Healthcare ETF (IYH).