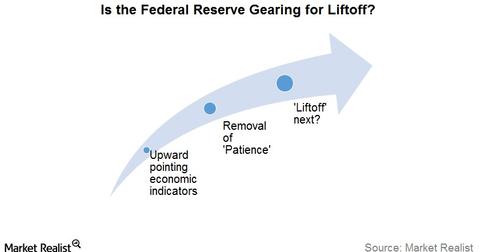 'Patient' Drops from the Federal Reserve's FOMC Statement
By David Ashworth

Mar. 20 2015, Published 4:14 p.m. ET
Short stint
"Patient" has left the building. Or, more accurately, it has been banished. What we're referring to is the word "patient," which the FOMC removed from the Federal Reserve's monetary policy statement in March 2015—and after a very short stint.
The FOMC (Federal Open Market Committee), the US central bank's rate-setting committee, met on March 17–18 in a scheduled meeting to decide on the federal funds rate, its balance sheet, and its policy guidance. In this meeting, the Fed removed the word "patience" from its statement while providing forward guidance for monetary policy.
Article continues below advertisement
"Patient" was introduced in December 2014
"Patience" had made it into the policy statement only in December 2014. While explaining the use of "patience" in December 2014, Fed Chair Janet Yellen had said that the FOMC didn't see economic conditions being robust enough to increase the federal funds rate—known as "liftoff"—in at least the two next meetings.
In this context, it's important to consider that the FOMC meets eight times in a calendar year to discuss monetary policy. On four of these occasions, it also holds a press conference and releases a summary of economic projections, which contains the policymakers' assessment of economic growth, unemployment, and inflation.
If the FOMC had reused "patience" in its statement in the March meeting, then, by the explanation it provided, it would have meant that the liftoff wouldn't take place for at least the April and June meetings. This is important since several market participants, along with some policymakers, have been expecting a liftoff in mid-2015.
A change in the federal funds rate would affect bond markets and associated ETFs like the iShares Barclays 1-3 Year Treasury Bond Fund (SHY), the Vanguard Total Bond Market ETF (BND), and the iShares Core U.S. Aggregate Bond ETF (AGG). It would also affect the debt-raising plans of companies like Verizon (VZ), General Electric (GE), and Walmart (WMT) as well as ETFs like the iShares iBoxx $ Investment Grade Corporate Bond Fund (LQD), which invests in these companies.
The use of "patience" had ruffled more than a few feathers. Find out more in the next part of this series.