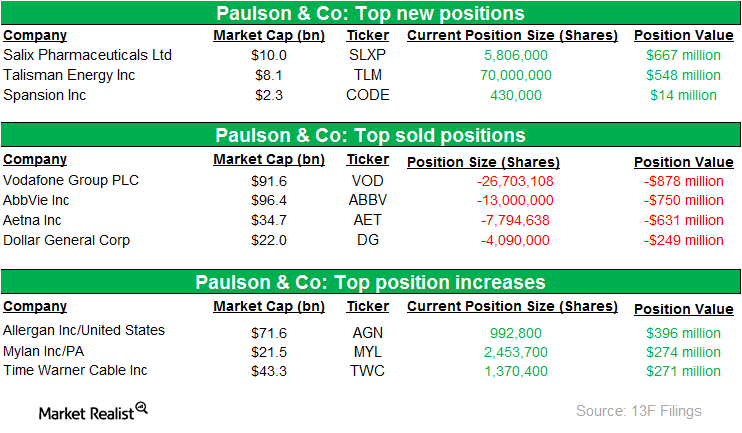 Main Paulson holdings traded in the fourth quarter
By Samantha Nielson

Dec. 4 2020, Updated 10:53 a.m. ET
Paulson holdings traded in the fourth quarter
Paulson & Co., founded in 1994 by John Paulson, opened new positions in the fourth quarter that ended in December. The fund's US long portfolio fell from $24.08 billion in 3Q 2014 to $19.3 billion in 4Q 2014. The portfolio comprised 58 stocks, down from 70 stocks in 3Q14.
In this series, we'll review some of the main positions that the hedge fund traded during the quarter.
Paulson added new positions in Salix Pharmaceuticals (SLXP), Talisman Energy (TLM), and Spansion (CODE). The fund exited positions in Vodafone Group (VOD), AbbVie (ABBV), Aetna (AET), and Dollar General (DG). It showed a bullish bias toward a few companies, raising its positions in Allergan (AGN), Mylan (MYL), and Time Warner Cable (TWC).
Other notable position increases were in Actavis (ACT) and DIRECTV (DTV). The fund lowered its positions in Shire (SHPG), Family Dollar Stores (FDO), and MGM Resorts (MGM). The table below highlights the fund's top ten positions in 4Q14.
Article continues below advertisement
Paulson's second-worst year
A Bloomberg report by Kelly Bit notes that the Paulson Partners fund, which invests in companies currently involved in mergers, rose 0.8% in 2014. The fund's credit opportunities fund fell 4.5%, and its event-driven Advantage fund declined 29% in 2014. The report adds that a special situations fund plunged 18% in 2014. Another newswire report notes that the fund retained its holdings in gold-backed exchange-traded fund, the SPDR Gold Trust (GLD).
The next part of this series will cover a new position in Salix Pharmaceuticals.