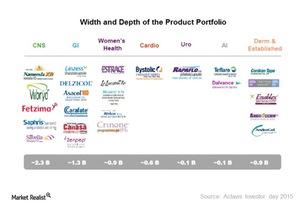 North American Brands's Position of Strength
By Nicole Sario

Apr. 2 2015, Updated 1:06 p.m. ET
Overview of product portfolio
Actavis (ACT) has balanced product offerings between primary care and specialty. For further details on these offerings, please read Why the Generic Industry's Classification Is Still Evolving. As of fiscal 2014, the company's North American Brands segment had around 80 branded products. Actavis has a sales force of approximately 3,500 people worldwide to market these branded products to physicians and specialists.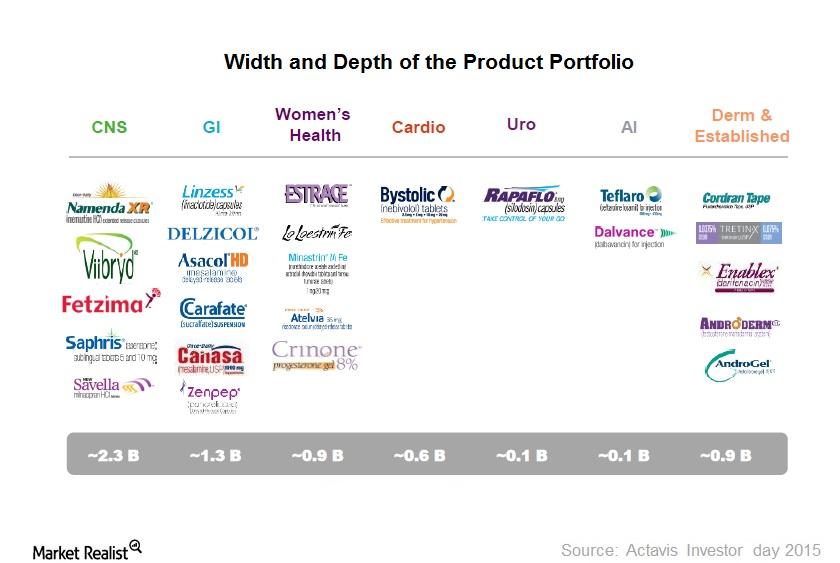 Article continues below advertisement
Leading products
The top ten products across Actavis's therapeutic segments accounted for approximately 70% of net revenues of segmental revenues in fiscal 2014. These key products are:
Nameda in Central Nervous System: With a patent expiration in 2015, the company plans to switch patients over to a new extended-release, patent-protected version of Nameda (Nameda XR).
Asacol/Delzicol in Gastroenterology: The first patent expired in 2013, and another patent will expire in 2021.
Linzess in Gastroenterology: The patent will expire in 2020.
Estrace Cream in Women's Health: The patent is long expired, but no generic version is available in the US market.
Minastrin 24 Fe in Women's Health: The first patent expired in 2014, and the next two patent expirations are due in 2019 and 2029. However, it is difficult to predict if these patents will provide significant protection for this drug.
Lo Loestrin in Women's Health: The first patent expired in 2014, and no generic version is currently available.
Bystolic in Cardiovascular: The patent will expire in December 2021.
In the US, Lo Loestrin and Estrace Cream are the number one prescribed oral contraceptive and menopause management products, respectively.
Leading products from peers
The key products of Teva (TEVA) in this specialty segment are Copaxone, Azilect, Nuvigil, Treanda, and the ProAir family. The loss of exclusivity for these products is expected to occur in 2015–2017. In the specialty injectable segment, Hospira's (HSP) leading products are Precedex, with an already-expired patent, and docetaxel.
The profitability of the branded business can be capitalized through investing in pharmaceutical ETFs like the Health Care Select Sector SPDR Fund (XLV) and the iShares US Healthcare ETF (IYH).