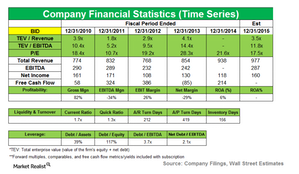 Marcato Capital Exerts Activist Pressure on Sotheby's
By Stuart McKenzie

Mar. 18 2015, Published 10:43 a.m. ET
Marcato's activist pressure on Sotheby's
Activist hedge fund Marcato Capital Management has been pushing for changes at Sotheby's (BID). Marcato owns 9.53% in Sotheby's, according to the hedge fund's latest 13D amendment. This means that Marcato is Sotheby's second-largest shareholder behind Daniel Loeb's Third Point.
Sotheby's auctions authenticated collectibles, jewelry, decorative art, antiques, and fine art. The auction house has a 0.01% representation in the Vanguard Total Stock Market ETF (VTI).
Article continues below advertisement
Share buyback and CFO replacement
In a letter dated February 20, 2015, Marcato criticized the management and board at Sotheby's for "willful neglect"of the auction house. The letter demanded a $500-million share buyback and a replacement of the company's CFO (or chief financial officer), citing nonexistent or poor returns on capital. Also, the letter noted that it had been "18 months since Marcato's initial investment in Sotheby's" and that the fund had discussed "numerous opportunities both publicly and privately for Sotheby's to use its capital more intelligently to create shareholder value."
Sotheby's responded to this letter in a statement issued later the same evening. The statement said that Sotheby's welcomed the views of shareholders, but that the immediate priorities of the company were to choose a new CEO (or chief executive officer) and to determine a strategy for increasing shareholder value. Sotheby's had announced the exit of CEO William Ruprecht in November 2014. The company said its strategy would act as a determinant in addressing capital allocation and ensuing capital needs.
Article continues below advertisement
Appointment of new CEO
Sotheby's recently named Tad Smith as its new CEO and president. Smith previously had served as the president and CEO of Madison Square Garden.
About Marcato Capital Management
Marcato Capital is a billion-dollar hedge fund based in San Francisco. Richard McGuire is the founder and managing member of the fund. Marcato manages a select number of passive and activist investments across all industries, primarily focusing on opportunities in middle-market public equities.
At the end of 4Q14, the fund's US long portfolio was worth $3.05 billion, up from $2.82 billion in 3Q14. The top 13F holdings of Marcato as part of its 4Q14 portfolio included Bank of New York Mellon Corporation (BK), Lear Corporation (LEA), and Goodyear Tire & Rubber Company (GT). Last month, Market Realist did a report on how Marcato Capital was exerting an activist influence on Lear.
In the next part of this series, we will commence an overview and analysis of Sotheby's different business segments.