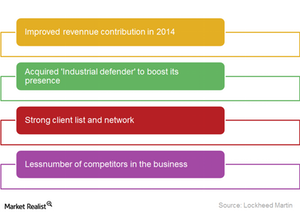 Does Lockheed Martin's future lie in the cybersecurity business?
By Ally Schmidt

Updated
Steady business growth
Recently, Lockheed Martin (LMT) saw steady growth in the cybersecurity market. Lockheed Martin forms a 4.14% holding of the iShares Select Dividend ETF (DVY). Currently, the company provides services for more than 200 customers around the world in critical infrastructure areas—like the energy (XLE), oil and gas, chemical, financial services, and pharmaceuticals business.
Lockheed Martin saw substantial gains in the commercial market in recent years. Its clientele includes a large number of companies on the Fortune 500 list—including 79% of utilities, 35% of oil and gas companies, 46% of chemical firms, and 46% of financial firms.
Lockheed Martin is the biggest supplier to the Pentagon. It has been preparing itself to make strong inroads in the commercial market. It leveraged the experience and intelligence it gathered for more than a decade while it guarded its own networks and government agencies' networks.
Article continues below advertisement
What can you expect in the future?
The cybersecurity business accounted for about 10% of the IS&GS (Information Systems & Global Solutions) segment. In 2014, it reported revenue of $7.8 billion. The company also expects to see double-digit growth in this business in the next three to five years. It expects higher gains in the commercial sector.
In order to strengthen its presence in the industry, Lockheed Martin acquired Industrial Defender—a leading provider of cybersecurity for control systems in the oil and gas, utility, and chemical industries—last year. This acquisition helped strengthen its presence in the rapidly growing cybersecurity market.
While other competitors and weapons makers—like Boeing (BA) and Harris Corporation (HRS)—largely exited the cybersecurity business after having a difficult time generating significant revenue, the company expects to take advantage of the opportunities and synergies to boost revenue in this sector.