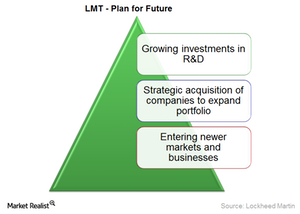 Lockheed Martin plans to adapt to changes in the future
By Ally Schmidt

Mar. 9 2015, Updated 2:05 p.m. ET
Investing in research
Lockheed Martin recognized the importance of research in defense industries. As a result, it rapidly increased its R&D (research and development) expenditures over the past few years. The investments even outpaced its sales trajectory.
In 2014, the spending on R&D grew by 8%. It outpaced its revenue. Lockheed Martin spends a lot of its resources on cooperative R&D. Weapons and defense systems often need to be modified according to different situations. Exchanging ideas leads to better products. Investing in innovation will be a long-term differentiator between the company and its competitors.
Article continues below advertisement
Acquisitions and ramp ups
Lockheed Martin also ramped up its acquisition spending significantly in 2014. This strategy helped the company spur innovation and push technological boundaries. The company made many acquisitions in the past year. It spent $898 million to acquire businesses and invest in affiliates. Some of the company's major acquisitions are Zeta Associates, Systems Made Simple, Industrial Defender, and Astrotech.
Lockheed Martin wants to add capabilities in all of the areas of its business—ranging from healthcare to space travel. Systems Made Simple would provide solutions that leverage information technology in the healthcare domain to improve, increase, enable and ensure the exchange and interoperability of information between patients, providers, and payers. Zeta designs systems that enable the collection, processing, safeguarding, and dissemination of information for intelligence and defense communities. Industrial Defender provides cybersecurity solutions for control systems in the oil and gas, utility, and chemical industries.
Other areas of improvement
In today's world of shifting power dynamics, the fast proliferation of digital technology, a rising global population, and worldwide economic uncertainty, Lockheed Martin is focusing on diversifying into commercial markets and the energy sector. It wants to grow its international business—as we discussed previously in this series.
Lockheed Martin forms a 4.14% holding of the iShares Select Dividend ETF (DVY). Other major companies included in the ETF are Philip Morris (PM), Kimberly Clark (KMB), and General Dynamics (GD). They have 1.90%, 1.79%, and 1.87% holdings, respectively.