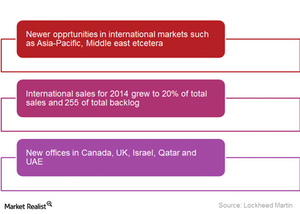 LMT's future opportunities in the Middle East and Asia-Pacific
By Ally Schmidt

Dec. 4 2020, Updated 10:53 a.m. ET
Lockheed Martin's strategy
Ever since the US government implemented budgetary cuts in defense spending, Lockheed Martin (LMT) has been looking for newer territories and businesses for growth. The company primarily depended on the US government and its allied agencies for most of its sales. Now, the company started to focus on improving its revenue mix.
Read Why are US defense expenditures falling? to learn why the defense budgets were cut.
Article continues below advertisement
Lockheed Martin shifted its focus to expanding in newer geographies. Foreign sales grew to 20% of the total revenue. It's expected to improve to 25% in the next few years. The total backlog from international businesses accounted for $20 billion in 2014. This is more than 25% of the company's backlog.
The company opened its offices in Canada, the United Kingdom, Israel, Qatar, and the United Arab Emirates, or UAE. The company plans to cater to government and private customers in European countries, especially Germany and Italy. It also plans to expand its in-country presence. It wants to strengthen international relationships through partnerships and local production joint technology offices.
The growth also benefited the company's domestic customers. Higher production volumes enable larger economies of scale and cost leverage. In turn, this helps cut costs across the board.
International business is important for other major defense contractors as well. It represents 18%, 13%, and 62% of revenue at Northrop Grumman (NOC), Raytheon (RTN), and United Technologies (UTX), respectively. Together, these companies form ~10% of the Industrial Select Sector SPDR (XLI).
Future opportunities
In the near future, the Middle East countries are facing volatile war situations due to terrorist grow ups—like ISIL (Islamic State of Iraq and the Levant). This resulted in demand for high-tech weaponry and defense systems. The company is working towards forming business relations with Middle Eastern governments.
While the Middle East represents the most immediate opportunities for the company, it's also working towards more promising opportunities in the Asia-Pacific region. In this region, tensions between China and its neighboring countries—particularly Japan—seem to be mounting every day. North Korea is another region that isn't stable. The company could take advantage of this in the future.
In the next part of this series, we'll look at newer sectors that provide opportunities for the company.