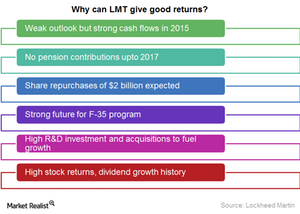 Why LMT can give good returns despite the weak outlook
By Ally Schmidt

Aug. 28 2019, Updated 1:45 p.m. ET
Positives beyond the outlook
Despite its weak economic outlook, there are positives for Lockheed Martin (LMT):
The company spent $2 billion in pension contributions in 2014. However, it won't have to make contributions to its benefit pension plans in 2015–2017. This will have a positive impact on cash flows.
Although the outlook for 2015 shows a decline in profits, the company expects to see a huge cash pile generated from operations. The expected cash from operations should be $5 billion or more. This is 40% more cash profit than the cash profit in 2014.
Lockheed Martin's F-35 program is expected to generate multiple years of revenue. The company will continue to evolve as it successfully discovers new means of revenue.
The company successfully expanded its international businesses to improve its revenue mix.
Lockheed Martin is eyeing newer territories for expansion. It's looking at newer business opportunities in other sectors.
Let's find out if investors can earn good returns in Lockheed Martin.
Article continues below advertisement
Why can you invest in Lockheed Martin?
Lockheed Martin regularly paid dividends to it's investors with a 13-fold growth in the past 12 years. Apart from this, the company's stock increased its dividend by another 13% last year. The company also has a strong 3.2% dividend yield at the current pricing.
Other major defense players that give out hefty dividends include Northrop Grumman (NOC), General Dynamics (GD), Boeing (BA).
The company's stock price grew over 25% in the past year. It roughly doubled the performance of the S&P 500 (SPY). The industrial sector forms an 11% holding of the SPDR S&P 500 ETF. The company also plans to invest at least $2 billion in share repurchases in 2015 and to reduce its total outstanding share count to below 300 million shares by the end of 2017. This would result in returning virtually all of the company's annual free cash to stockholders over the next three years.
As a result, given the magnitude of share repurchases along with the ever growing annual dividend payments and strong stock return values, there's a fair chance that investors could earn good returns from Lockheed Martin in the future.
For the latest updates, visit Market Realist's Aerospace and Defense page.