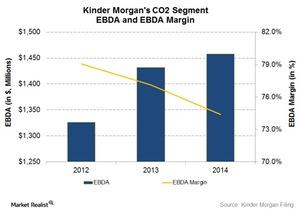 Kinder Morgan's CO2 segment sees higher profit and lower margin
By Alex Chamberlin

Updated
Revenues and profits increase
We have discussed Kinder Morgan's (KMI) Natural Gas Pipelines segment's operating performance in the previous section of this series. In this article, we'll discuss the company's CO2 segment's operating performance. Read part three of this series to find out more about the segment's assets.
In 2014, Kinder Morgan's CO2 segment saw higher revenues and profits. Revenues increased 6% to $1.96 billion in 2014 over the previous year. Earnings before depreciation and amortization (or EBDA), a measure of profit, increased 2% to $1.45 billion in 2014 over $1.43 billion in 2013.
Article continues below advertisement
EBDA margin (segment EBDA as a percentage of segment revenues) fell to 74% in 2014 from 77% in 2013. The primary revenue and profit drivers in 2014 were higher source and transportation activities. In 2014, revenues were boosted by an 8% increase in average CO2 contract price due to a better mix and relative movement of advantaged CO2 over crude oil.
The primary reasons EBDA margin suffered
higher operating costs at the Goldsmith Landreth unit (acquired by KMI)
increased power costs
higher property and severance tax expenses
lower crude oil and NGL (natural gas liquids) prices
Article continues below advertisement
Volumes are steady
In 2014, crude oil production in Kinder Morgan's two primary crude oil fields at SACROC increased and decreased by 8% and 4%, respectively. NGL (or natural gas liquids) sales volume increased 2% compared to 2013. Revenue, however, was negatively affected by 5% lower crude oil and 10% lower NGL prices.
The SACROC unit is one of the largest and oldest oil fields in the US using CO2 flooding technology. The unit is located in the Permian Basin in Scurry County, Texas. Kinder Morgan's interest in this field consists of approximately 49,000 acres.
In 4Q14, Williams Companies' (WMB) operating income increased 73% compared to 4Q13. Spectra Energy's (SE) and Targa Resources' (TRGP) operating income also increased by 19.5% and 12.5%, respectively, in 4Q14 over the year-ago quarter. Together, KMI and WMB account for 7.2% of the Energy Select Sector SPDR ETF (XLE).
Read the following section to learn how Kinder Morgan's Terminals and Products Pipelines segments have been doing.