Assets breakdown
J.P. Morgan's (JPM) total assets at the end of 2014 stood at a whopping $2.6 trillion. Its loan portfolio amounted to $743 billion. The company holds $480 billion in cash. J.P. Morgan's loan-to-deposit ratio dropped from 71% in 2010 to 55% at the end of 2014.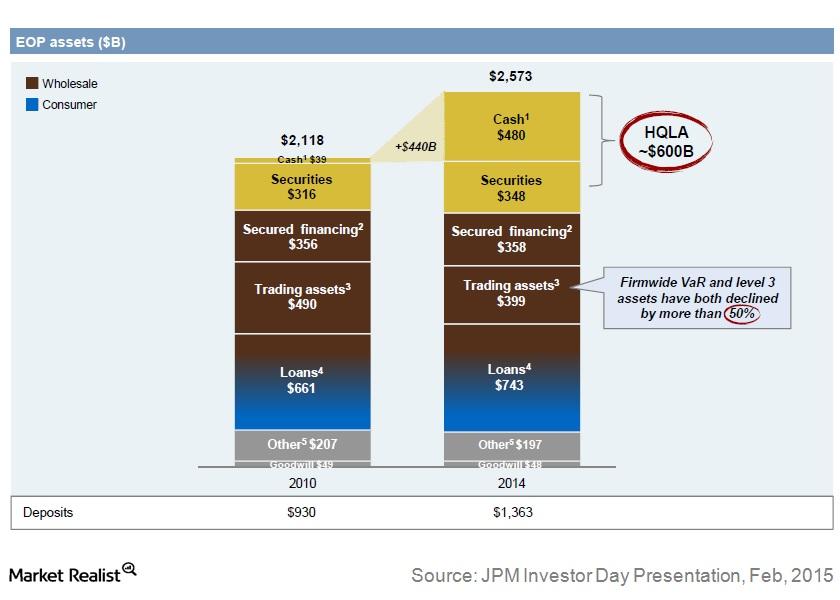 The graph above shows the breakdown of the company's assets by type.
Article continues below advertisement
Loan-to-deposit ratio lower than peers
Loan-to-deposit ratio is commonly used for assessing a bank's liquidity. It's calculated by dividing the bank's total loans by its total deposits. A very high ratio indicates that the bank doesn't have enough liquidity to cover any unforeseen needs. A very low ratio might indicate that the bank isn't earning as much it can on its deposits.
The ideal loan-to-deposit ratio for a bank depends on its business model. Some banks that focus on core banking, such as US Bancorp (USB), have high loan-to-deposit ratios. US Bancorp's ratio is around 90%. J.P. Morgan's lower ratio is due to its significant custodian banking operations that require it to hold more highly liquid assets.
The ratios of Citigroup (C), Wells Fargo (WFC), and Bank of America (BAC) lie somewhere between US Bancorp's 90% and J.P. Morgan's 55%. C, WFC, and BAC combined make up ~19.5% of the Financial Select Sector SPDR ETF (XLF),
Liquidity coverage
J.P. Morgan is required in part by LCR (liquidity coverage ratio) to hold more high-quality, liquid assets. LCR is a measure of the firm's liquid assets to its projected net cash outflow. The LCR requirement is intended to strengthen the liquidity positions of large banks.