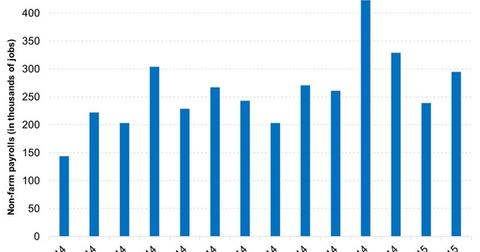 The Coming Interest Rate Hike Should Cause Bond Yields to Rise
By Rick Rieder

Updated
Current market dynamics require the use of more than one strategy to achieve these goals, however. Recent strong jobs report, combined with continued steady growth in gross domestic product, offers the Federal Reserve all the ammunition it needs to start raising rates at its June meeting—which we believe it should do—meaning the need for flexibility has never been greater.
Article continues below advertisement
Market Realist – A better economy will cause bond yields to rise.
Recently, the number of jobs created in the US economy has led to a lot of optimism among investors toward the labor market's health. The last seven months have seen over 2 million jobs created in the US, while the last 13 months have seen at least 200,000 jobs created. This is great news for the economy. However, wage growth remains low. But growth in retail sales is a concern, as the growth fell for the third consecutive month in February. Despite that fall, the US is one of the bright spots in a slowing world.
The US equity markets (SPY) jumped following the job reports, while Treasury (TLT)(IEF) yields rose, as the probability of a rate hike increased. However, it's important to remember that interest rates will remain low despite the period of rate-normalization.
Treasury yields in other major developed markets (VEA) remain excessively low due to quantitative easing in Europe (VGK) and Japan (EWJ). This makes US Treasuries attractive to them, which means that any rise in yields due to the rate hike will cause global demand to rise, offsetting the rise in yields—at least to an extent.
Read on to find out more tailwinds for Treasuries in 2015.