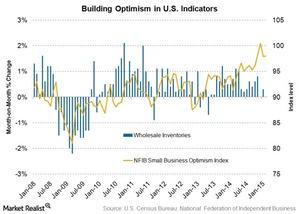 Indicators suggest growing US optimism thanks to SPY and VOO
By Surbhi Jain

Updated
US indicators are a net positive on March 10
March 10 saw the release of a number of key indicator releases in the United States as well as in Europe.
Wholesale inventory data and the Small Business Optimism Index were the most looked forward to in the United States. There was a number of important production and price-related indicator releases in Europe as well. Let's start by taking a look at the indicator signals coming from the United States.
Article continues below advertisement
US wholesale inventories rose 0.3% in January
Wholesale inventory figures have been released by the U.S. Census Bureau. Inventories went up by 0.3% in January as wholesale trade sales took a dip of 3.1% over December figures. The figures came in better against the median expectations of -0.1% for wholesale inventories and -0.5% for wholesale trade data.
Wholesale inventories serve as a measure of how quickly wholesalers are restocking their inventories. A higher rate of restocking indicates greater turnaround in output backed by an increase in economic activity. This indicates growth and spells good news for broad-market ETFs such as the SPDR S&P 500 ETF (SPY) and the Vanguard S&P 500 ETF (VOO).
For the month of January, inventories for durable goods were up 0.6% from December. SPY components such as Garmin Ltd. (GRMN) (0.03%), General Motors (GM) (0.28%), and Amphenol Corporation (APH) (0.10%) are some examples of durable goods manufacturers in the United States. These companies have gained and lost about -6.81%, +1.24%, and 26.56%, respectively, over the last one year as of March 10, 2015.
Growing optimism in US small businesses
Large wholesalers got a boost from the January inventory report. Small business optimism also edged up in February, according to the NFIB (National Federation of Independent Business) Small Business Optimism Index. The index measures optimism in small businesses. A small business is an independent company with one to 250 employees, not including owners. A small business is not publicly held or held by a publicly held entity.
The index value rose from the 97.9 index points recorded in January to 98 points for February. From the above chart, we can see that growing US optimism among small businesses has been on an upward trend since 2013.
US indicators turned out to be a net positive, indicating improving strength and optimism in the US economy. But there were mixed sentiments from Europe.