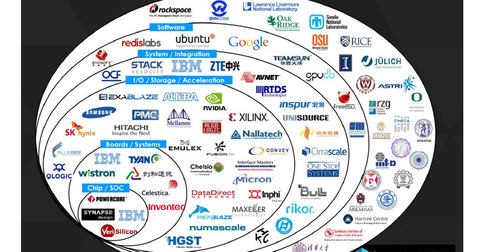 Why IBM's OpenPOWER Foundation Could Change the Server Market
By Anne Shields

Updated
IBM's OpenPOWER foundation promotes POWER processors
IBM (IBM) launched OpenPOWER Foundation in 2013 to foster development of the POWER processor architecture and create a broader IT hardware ecosystem. IBM developed the foundation with the aim of promoting POWER systems, which is the engine driving IBM's enterprise systems. Its members include leading technology players, Google (GOOGL), Canonical, NVIDIA (NVDA), and TYAN. At the OpenPOWER Summit, new 2015 servers and cloud solutions utilizing POWER8 processors were launched.

To gain diversified exposure to IBM, you can invest in the Technology SPDR (XLK). XLK invests 3.51% of its holdings in IBM.
Article continues below advertisement
Intel dominates the server market
The server market is largely comprised of Intel (INTC) or AMD x86 processors. SPARC or MIPS architecture is also present for specialized usage. According to Gartner, Intel provided 92% of all new server chips in 2013. As an open source platform, OpenPower Foundation enables design availability to any foundry that wants to make POWER processors, or another manufacturer that intends to produce hardware that utilizes POWER8.
OpenPOWER offers better performance at a lower cost per unit
The OpenPOWER platform is also more cost effective than architectures that rely on a single source. According to a report by the Linley Group, the 12-core POWER8 processor is estimated to cost $2,500, whereas Intel Xeon E5-2699 v3 is available for ~$3,995. IBM claims to provide Power8 processors that offer "up to 60% better performance per dollar spent."
POWER8 has the higher memory bandwidth and multithreading capabilities when compared to Intel's designs. POWER8 processors have eight threads per core, whereas Intel is yet to ship a processor with more than two threads per core. Intel's 18-core Xeon E5-2699 v3 is limited to 36 threads. On the other hand, IBM's 12-core POWER8 has 96 threads.