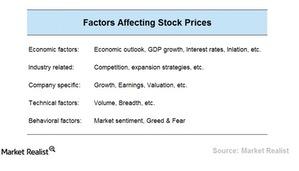 Why Housing Indicators Matter to Investors and Homeowners
By Peter Barnes

Updated
What are indicators?
Changes on the stock market can have a big impact on your returns and investment goals. Understanding the factors that affect stock prices in the short and long term can lead to better investment decisions over time.
Stock prices are mainly driven by the market forces of supply and demand. Supply and demand are influenced by a number of short- and long-term factors that ultimately affect price. Some of these movements can be explained by economic factors, which we'll look at in the macro section of this series.
Article continues below advertisement
Other movements are explained by the industry scenario in which a company operates. Market Realist often comes out with different industry primers and indicator series that extensively cover various industry-related topics. Indicators show what could happen to an industry in the short to medium term, or, in the next six months.
Finally, some stock price movements are driven by company-specific factors, and yet others may be explained by technical and behavioral factors.
Why are we covering indicators?
A sustained rise or decline in certain industry indicators can show us a pattern or give direction about the industry's movement. When an investor wants to buy or sell stocks in a particular industry such as homebuilding, indicators can provide valuable clues about whether to invest, sell right away, or wait a few more days before selling.
What to expect in this series?
As a follow-up to our most recent series—Home, sweet home: Your guide to the homebuilding industry—this series is focused on housing indicators. We'll cover all the important indicators that positively or negatively affect the homebuilding industry as well as homebuilders such as Standard Pacific (SPF), D.R. Horton (DHI), Pulte Group (PHM), and KB Homes (KBH).
For exposure to this sector, investors can consider the SPDR S&P Homebuilders ETF (XHB) and the iShares U.S. Home Construction ETF (ITB).
We'll extensively analyze fifteen indicators in this series, which are important to both real estate investors and homeowners.