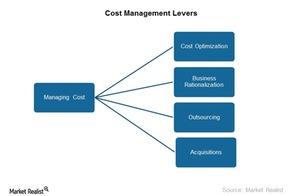 What Helps a Generic Company Boost Its Profitability?
By Nicole Sario

Updated
Cost management is key
Intense competition and a lack of product differentiation left little room for a price increase. As generics play on volume, scale and cost optimization are key ingredients for success. Along with cost optimization, looking at the product portfolio again is also important. Leading companies are taking various steps—like cost optimization, business rationalization, outsourcing, and acquisitions—to manage costs and boost profitability.
Article continues below advertisement
Cost optimization
Companies are reviewing their cost of goods sold. This includes the supply chain cost. The leading player is Teva (TEVA). It has a target to reduce costs by $2 billion by 2017. It will lower its labor cost. It reduced its headcount by ~10% in 2014. Actavis (ACT) is streamlining its business by moving the production of certain prescription products to its facility in Salt Lake City, Utah.
Business rationalization
Companies are deploying various strategies—like a divesting of low margin products and non-core business and regional operations—to remain focused. Teva sold two of its US OTC (over-the-counter) manufacturing sites and closed its API (active pharmaceutical ingredient) facility in Italy. It's reviewing other sites for closure and restructuring. Actavis (ACT) divested its facilities in Western Europe.
Article continues below advertisement
Outsourcing
To achieve operational and cost benefits, companies are outsourcing API manufacturing and other products to low-cost countries like India and China. Actavis outsourced the manufacturing of certain OTC products. Teva engaged several contract manufacturers for production.
Acquisitions
This helps to acquire scale and achieve cost optimization through synergies. For example, Mylan (MYL) has been improving its gross margins over the last five years through the integration of the Merck and the Bioniche.
In 2012, Hospira (HSP) acquired India-based Orchid Chemicals and Pharmaceuticals—an API facility. It's expected to bring the benefits of cost optimization.
The profitability derived through cost rationalization can be exploited through investing in pharmaceutical ETFs like the Health Care Select Sector SPDR Fund (XLV).