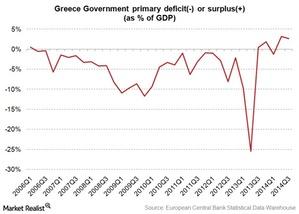 Greece reaches agreement with its Eurozone creditors
By Surbhi Jain

Updated
Greece reaches out to Eurozone creditors
Germany's refusal to help Greece pushed Greece to request a bailout extension from the Eurozone. On Friday, February 20, Greece (GREK) managed to get an agreement with its Eurozone creditors for a four-month extension on its loan. This was against the six-month term the Greek government requested from Eurozone (VGK) (EZU) (HEDJ) ministers on February 19.
Greece's agreement with its creditors in the 19-member Eurozone was intended to help ease concerns over Greece exiting the Eurozone. However, final approval for the bailout extension was contingent on a review by representatives from the European Central Bank, the International Monetary Fund, and the European Commission. The review took place on Tuesday, February 24.
In the next part of this series, we'll go over the results of that review.
Article continues below advertisement
Greece receives a relaxation of its 2015 fiscal targets
According to a Troika statement, "Greek authorities commit to refrain from any rollback of measures and unilateral changes to the policies and structural reforms that would negatively impact fiscal targets, economic recovery or financial stability, as assessed by the institutions."
In return for its commitment, Greece earned at least one significant concession: a relaxation of its 2015 fiscal targets. The bailout terms require Greece to run a primary surplus of 4.5% of GDP (gross domestic product). However, the new agreement did not set out a target for this year.
The Troika promised to "take the economic circumstances in 2015 into account." A primary budget surplus doesn't account for interest payments made on loans. It's simply the surplus of tax receipts over spending.
Primary surplus in Greece
Greece has managed to move to a primary surplus of 3% of GDP from a deficit of 10% of GDP since the first bailout in 2010. This has come at a huge cost in terms of public sector job losses.
American firms such as Accenture (ACN), Xerox Corporation (XRX), and the 3M Company (MMM) have a presence in Greece and are counted among the best employers there. However, sluggish growth continues to hinder the pace of hiring in Greece.
After the Eurozone ministers approved the bailout extension agreement on February 24, Greece sent a letter to the ministers. The letter included certain measures Greece pledged to follow. In the next part of this series, we'll look at some of Greece's key pledges.