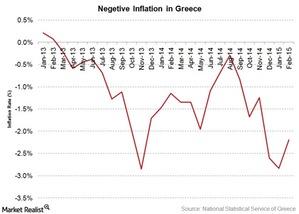 Greece prolongs its stay in negative inflation territory
By Surbhi Jain

Nov. 20 2020, Updated 4:11 p.m. ET
Market Realist has been following Greece
Article continues below advertisement
Negative inflation in Greece
The inflation rate in Greece, as measured by a change in the Consumer Price Index, came in at -2.2% for the month of February 2015. The rate did take a breather from the -2.8% recorded in January.
Greece has been in negative inflation, or deflation, since April 2013. Food and nonalcoholic beverages, transportation, housing and hotels, and coffee shops and restaurants command 17%, 13%, 12%, 11% weight, respectively, in Greece's consumer price index basket. They're the prime drivers of Greece's inflation figures.
The Greece-tracking Global X FTSE Greece 20 ETF (GREK) continued its downward slide upon receiving the news. The ETF has lost about 6.8% over the past months and about 17.1% on a year-to-date basis.
As of March 3, 2015, the GREK has invested up to 8.9% of its portfolio in equities of the National Bank of Greece (NBG) and 13.2% in Coca-Cola HBC AG (CCHBF). CCHBF is partly owned by The Coca-Cola Company (KO). The Coco-Cola Company's key competitor, PepsiCo, Inc. (PEP), also operates in Greece through its subsidiary Tasty Foods S.A.
Stay updated with the latest and key indicators that could impact your investments by visiting our Global Equity ETFs page on the Market Realist website.