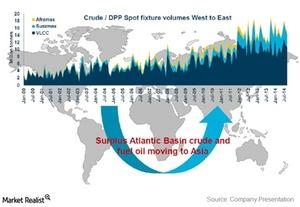 The global tanker fleet and its changing trade patterns
By Katie Dale

Updated
Global tanker fleet
In 2014, the global tanker fleet grew by 7.2 million deadweight tonnes (or mdwt), or 1.4%, led by the product sector's growth. The crude tanker fleet grew by just 2.2 mdwt, or 0.7%. The global Suezmax and uncoated Aframax fleets reduced in size by three vessels, or 0.6%, and 19 vessels, or 2.9%, respectively.
Article continues below advertisement
Fleet forecast
Looking ahead, the global tanker fleet is forecast to grow by 1.7% in 2015, with higher growth weighted toward the product sectors. Negative fleet growth is expected for the Suezmax and uncoated Aframax sectors.
Global growth levels would also impact Teekay Tankers (TNK) and peers like Frontline Ltd. (FRO), Nordic American Tanker Ltd. (NAT), Tsakos Energy Navigation (TNP), and Teekay Corporation (TK). The iShares S&P 500 Index ETF (IVV) is a fund that invests in multiple sectors, including tankers.
Long-haul trade movements
Changing trade patterns are stretching out the global tanker fleet. With the surplus Atlantic basin crude oil finding new and growing markets in Asia, there has been a sustained annual increase in long-haul movements from west to east. Specifically, cargo from West Africa to the US and Gulf, which is traditionally a staple Suezmax trade route, has declined by almost 70% due to the surge in US shale production. This displaced demand for Nigerian light sweet crude.
In contrast, trade of Suezmaxes between West Africa and Asia increased by ~75%, and trade from West Africa to Europe also increased 70% over the last four years.
Backhaul cargo
Additionally, the lack of a natural backhaul cargo from West Africa to Asia trade led to the growing fleet inefficiency as ships discharging in the east requires a longer voyage back to the Atlantic load ports. Backhaul means hauling cargo back from a particular point B to the originating point A.
As a result, many owners choose instead to load in the Middle East rather than back to the Atlantic, which leads to further displacement in vessels in the Atlantic Basin as tonnage supply remains east of Suez.
Such changes to traditional trade patterns stretched the mid-sized tanker fleet reducing supply of available tonnage and increasing both the occurrence and periods of volatility in spot rates.