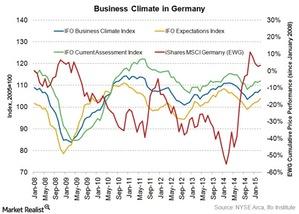 Germany's Business Climate Index Up for Fifth Straight Month
By Surbhi Jain

Updated
Germany's Business Climate Index rises again
On March 25, the Ifo Business Climate Index in Germany (EWG) rose for the fifth consecutive month to 107.9 points in March from 106.8 points the previous month. The report notes, "The reading is the highest level reached since July 2014."
There seems to be increased optimism among Germans with respect to business development in the Eurozone's strongest economy.
The Ifo Business Climate Index is an important barometer for the German economy. It is based on about 7,000 monthly survey responses from firms in trade, manufacturing, construction, wholesale, and retail. The Information and Forschung (research) wing of the CESifo Group conducts the survey.
Article continues below advertisement
The survey's assessment is based on the responding firms' evaluations of the current business situation and their expectations for the next six months. The Ifo Business Climate Index is a transformed mean of the balances of the business situation and the expectations. The index values of the survey are normalized to the average seen during 2005. This index is a good gauge for industry and trade conditions in Germany.
Ifo Business Climate Index report
According to the March 2015 report, the Ifo Business Situation Index rose from 111.3 to 112.0 in March. Plus, the Business Expectations Index recorded an increase of 1.4 index points from 102.5 in February to 103.9 in March.
The trade, manufacturing, wholesale, and retail components of the index increased further, while the construction component declined further. The health of German businesses is also important for the United States. The US subsidiaries of German-owned firms play a pivotal role in the US (IVV) economy, as competitive German businesses contribute to the economic health and prosperity, while also adding to employment opportunities.
German companies such as SAP SE (SAP) and Deutsche Bank AG (DB) each have substantial operations in the US, while the American firm McDonald's Corp. (MCD) is counted among the top ten employers in Germany.
While the Ifo Institute report may have brought good news for German businesses and prospective investors in Germany, it failed to boost the iShares MSCI Germany EFT (EWG). This Germany-tracking fund lost 0.56% on March 25. Could it be Greece's (GREK) political and financial tensions, weighing heavily on the MSCI Germany Index? Let's find out.