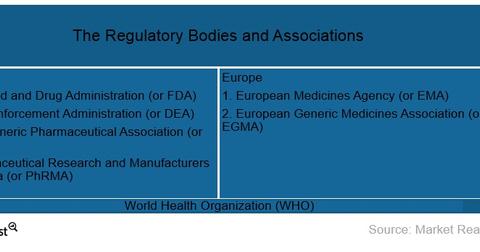 Why Is the Generics Industry Controlled by Regulations?
By Nicole Sario

Updated
Generics industry's regulation
The generics industry is highly regulated. The drug approval process and the regulatory bodies governing them differ from market to market. Globally, there isn't a single harmonized protocol. If any drug is going to be launched in different markets, then it goes through each markets' approval process. This makes launching a drug expensive and time consuming.
In this part of the series, we'll look at the major regulations of the two biggest markets—the US and Europe.
Article continues below advertisement
Regulations in the US
In the US, the primary regulatory body for pharmaceuticals is the FDA (U.S. Food and Drug Administration). The industry is majorly governed by the federal Food, Drug, and Cosmetic Act, or FD&C, and the Controlled Substances Act, or CSA. These two acts cover the development, manufacture, testing, safety, efficacy, labeling, approval, storage, distribution, recordkeeping, advertising, promotion, sale, import, and export of generic products.
Drug Price Competition and Patent Term Restoration Act, also known as the Hatch-Waxman Act, addressed the inadequacies of the generic approval process. The act was enacted with the intention to promote generics and bring in competition for branded drugs. Under the act, generic drug manufacturers are encouraged and rewarded for challenging a patent by providing 180-day market exclusivity.
Regulations in Europe
The EMA (European Medicines Agency) is the main regulatory body in Europe. It provides market authorization. The authorization can also be obtained by state authorities. A generic drug can only be launched after the patent and SPCs (supplementary protection certificates) of a branded drug expire.
According to the data exclusivity formula, 8+2 (+1), the application for market authorization can only be made after the eight-year data exclusivity period for the branded drug expired. A generic drug is launched after two or three years of market authorization.
The leading US generic companies are Teva (TEVA), Mylan (MYL), Actavis (ACT), Hospira (HSP), and Impax (IPXL). Pharmaceutical ETFs—like the S&P Health Care Select Sector Index (XLV) and the VanEck Vectors Pharmaceutical ETF (PPH)—are capitalizing on the industry's profitability.