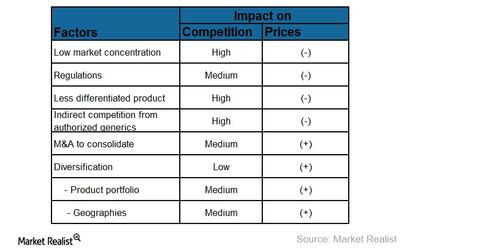 Generic Companies Are Fighting for Market Share
By Nicole Sario

Updated
Generics industry is fragmented
The generic pharmaceutical industry is characterized by low concentration. The top ten global generic companies hold less than 50% of the market share. The key reasons are the low R&D (research and development) requirement, moderate impact of the regulatory environment, focus on primary care products, and indirect competition from authorized generics.
Article continues below advertisement
Low R&D requirement
This encouraged small companies to enter the market. However, economies of scale and operational efficiencies are critical for growth. This led to consolidation through mergers and acquisitions, or M&A.
Moderate industry landscape
The regulatory landscape has a moderate impact on companies entering the generic market. In general, the industry is highly regulated. Regulatory guidelines that deter companies from entering the market are bioequivalence demonstration, price regulation, and good manufacturing practices. However, a few regulations—like the Hatch-Waxman Act—are encouraging generic companies to enter the market. These companies get a first mover advantage. They get marketing exclusivity for 180 days.
Article continues below advertisement
Focus on primary products
In the past, the industry focused on primary care products that are less differentiated. This caused small players to mushroom. It led to commoditization. The combination of the above factors increased the competition. It caused the prices to decline. Recent consolidation in the US distribution industry is expected to put more pressure on prices due to the buyers' increased bargaining power.
Impact on profitability
Competition and price erosion impacted the industry's profitability. In such a situation, a few players—like Teva (TEVA), Mylan (MYL), Sandoz, Hospira (HSP), and Impax (IPXL)—are still able to sustain their market position. They're emerging as strong players. A few competitive moves that make these players stand out are developing capabilities in the specialty segment and global diversification.
Pharmaceutical ETFs—like the S&P Health Care Select Sector Index (XLV) and the SPDR S&P Pharmaceuticals ETF (XPH)—are capitalizing on the industry's profitability.