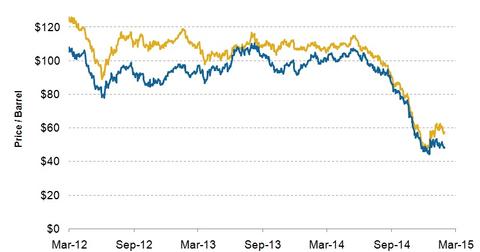 Frontline: Will Floating Storage Continue Or Not?
By Katie Dale

Updated
Market outlook
For Frontline Ltd. (FRO), 1Q15 started off very well. It benefited from the improved spot market in the fourth quarter and the lower bunker prices. Demand remains high, volatility is back, and the ton mile remains in the owners' favor.
For 2014, the year ended with fleet utilization around 85%. It will likely increase in 2015. However, Frontline commented that it's very difficult to predict. For VLCCs (very large crude carriers), floating storage was the main theme at the beginning of 2015. Around 40 vessels have been confirmed for time charter. Four of its ships are fixed at an average rate of $44,000 for around the 12-month average.
Article continues below advertisement
Will storage continue or not?
Frontline commented that the shipping industry is currently analyzing how many ships would be used for storage in 2015. The two important factors that could make storage less likely are the contango in the oil market narrowing and the spot markets remaining strong. Despite this, the company thinks that some ships will still continue to store. Frontline estimates that out of the 40 ships booked, 15–20 ships will likely go for storage. The effect will be seen more in 2Q15 and 3Q15 instead of 1Q15. The remaining ships will likely be used in spot trading.
However, the main costs are the correction in oil price and the lowest bunker prices. The low oil price will also likely to support oil demand. This is positive for Frontline and other companies—like Teekay Tankers Ltd. (TNK), Nordic American Tanker Ltd. (NAT), Tsakos Energy Navigation Ltd. (TNP), and Navios Maritime Acquisition Corp. (NNA). The PowerShares DB Oil Fund ETF (DBO) tracks the performance of crude oil.
There have been years with very poor markets. The recent spot strength boosted owners' confidence. The market sentiment is positive. With the current orderbooks expected to grow further—especially Suezmax vessels—shipping industry executives are very concerned. The poor dry and offshore markets already led to the conversion of orders to tankers. The company fears that this will continue to happen along with fresh orders being placed.