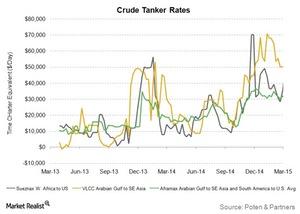 Why DryShips May Gain on Spot Tanker Rates
By Katie Dale

Updated
Vessels spot freight rates
The crude tanker rate for Suezmax vessels from West Africa to the United States stood at $46,619 as of March 6, 2015. Month-over-month and year-over-year, crude tanker rates increased 33.7% and 164.5%, respectively.
VLCCs[1. Very large crude carriers.] from the Arabian Gulf to South East Asia recorded a crude tanker rate of $55.4 million as of March 6, 2015. Month-over-month and year-over-year crude tanker rates increased 3% and 537.9%, respectively.
Aframax vessels from the Arabian Gulf to South East Asia and from South America to the United States recorded an average $30,077 crude tanker rate as of March 6, 2015. This indicated a month-over-month drop of 8.3%. Year-over-year, crude tanker rates surged 78.6%.
Article continues below advertisement
The above rates show that except for VLCCs, both Suezmax and Aframax vessels reversed their positive trends and dipped into the red. So, companies operating with major vessels like VLCCs are likely to benefit in trading spot markets. The PowerShares DB Oil Fund ETF (DBO) tracks the performance of crude oil.
Spot freight rates' impact on DRYS
Spot freight rates for the dirty tanker sector generally increased in January 2015 across a number of reported routes, with minor exceptions. Average spot freight rates for VLCCs continued the gains they'd seen since the beginning of the fourth quarter of 2014. Meanwhile, Suezmax freight rates also increased from last month by 5% on average. Aframax vessels experienced the strongest gain, increasing by 10% from a month earlier.
Looking ahead, spot market rates are expected to rise going forward, and this will allow DryShips to improve its revenue and earnings. Also, DryShips' focus on fleet development will lead to more orders going forward. Lower oil prices are likely to support transportation demand and order growth. These factors may lead to an increase in DRYS's bottom line compared to previous years. Companies like Frontline (FRO), Nordic American Tanker (NAT), DHT Holdings (DHT), and Navios Maritime Acquisition Corporation (NNA) are also likely to benefit.