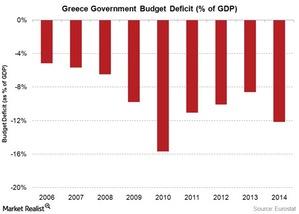 Debt and deficit: Which one is the lesser of two evils for Greece?
By Surbhi Jain

Dec. 4 2020, Updated 10:53 a.m. ET
Greece's two key financial constraints
Greece needs to focus on the following two key areas in order to destress its financial situation. We'll briefly describe them as debt and deficit.
burgeoning debt-to-GDP (gross domestic product) ratio
budget deficits that span more than a decade
Article continues below advertisement
Debt-to-GDP ratio
Greece's debt-to-GDP ratio stood at 129.7% in 2010. The ratio surged to 174.9% by the end of 2014.
However, the bailout program requires Greece to reduce its debt below 110% of GDP by 2022. In effect, Greece would have to run a primary budget surplus over 4% for well over a decade. This is not an easy task for Greece.
Budget surplus or deficit
Greece recently announced a primary budget surplus of 1.9 billion euros ($2.24 billion) for 2014. However, the primary surplus does not include the interest that this financially distressed nation is paying for its monstrous debt.
Greece's overall government budget as a percentage of its GDP was -15.7% in 2010. After recovering to -8.6% of GDP for 2013, the ratio again dipped to -12.2% for 2014.
The deteriorating health of the Greek economy is evident in the declining performance of the Greek equity-tracking FTSE Greece 20 ETF (GREK). GREK is invested up to 7.5% in equities of the National Bank of Greece (NBG) and 11.5% in Coca-Cola HBC AG (CCHBF). CCHBF is partly owned by The Coca-Cola Company (KO). The Coco-Cola Company's key competitor, PepsiCo, Inc. (PEP), also operates in Greece through its subsidiary Tasty Foods S.A.
Since Greece is part of the Eurozone, it tends to weigh down the performance of the Europe-tracking iShares MSCI EMU ETF (EZU) and the Vanguard FTSE Europe ETF (VGK).
The cash crisis that has come upon Greece and its bailout loans that are soon due for repayment have put the country in a difficult situation. An extension of the bailout repayment term seems to be the country's only recourse. With Germany's outright rejection of its bridge loan request and the flight of deposits from its banks, Greece is definitely mired in a financing crisis, at least over the short term.