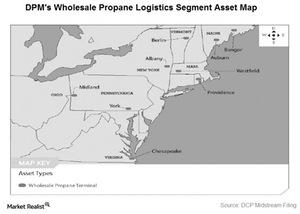 DCP Midstream's Wholesale Propane Logistics Segment
By Alex Chamberlin

Apr. 2 2015, Updated 1:05 p.m. ET
Wholesale Propane Logistics segment
In the previous part of this series, we looked at DCP Midstream Partners' (DPM) Natural Gas Services segment. In this article, we'll get an overall view of DCP Midstream's Wholesale Propane Logistics segment, its assets, and its business.
DCP Midstream's Wholesale Propane Logistics segment serves propane and other liquefied petroleum gas markets through its pipelines and terminal assets located in Maine, Massachusetts, New York, Pennsylvania, Rhode Island, Vermont, and Virginia.
DCP Midstream's terminal assets include the following:
one owned and one leased propane marine terminal
one owned propane pipeline terminal
six owned propane rail terminals
Article continues below advertisement
When we combine all these assets, DCP Midstream's terminal capacity is 975 thousand barrels (or MBbl) of propane. Other key US propane distributors include AmeriGas Partners (APU), Suburban Propane, Ferrellgas (FGP), and Targa Resources Partners (NGLS). Targa Resources Partners accounts for 4.56% of the Alerian MLP ETF (AMLP).
DCP Midstream sources propane from suppliers such as MarkWest (MWE), BP Canada (a subsidiary of BP), Petredec Limited, and crude oil refineries located in the US Gulf Coast. Its supply network is marked by the following characteristics:
annual and multi-year agreements
floating index-based pricing and fixed-price agreements
Price management strategy
DCP Midstream (DPM) manages commodity price risk by a combination of the following strategies:
purchasing and storing propane to benefit when input cost is lower
entering into offsetting financial derivative when propane price moves in adverse direction
Article continues below advertisement
Revenue concentration
In 2014, two customers accounted for more than 10% of the Wholesale Propane Logistics segment's revenues.
Demand drivers
Propane is typically used for water and space heating, indoor and outdoor cooking, clothes drying, and backup power. Propane demand may reduce during periods of milder weather in the winter months or in a recessionary environment.
At the beginning of 2014, when the United States experienced a colder-than-normal winter, propane demand surged. This affected DCP Midstream positively.
Read the following section to know the operating results of DCP Midstream's (DPM) Natural Gas Services segment.