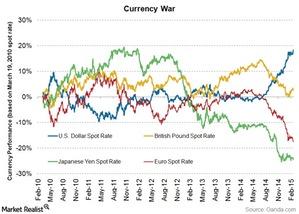 Why do countries enter currency wars?
By Surbhi Jain

Mar. 6 2015, Published 10:51 a.m. ET
Currency wars aim to export deflation, but are they effective?
Originally, Guido Mantega coined the term "currency wars" in 2010 to signify currency depreciation by countries to maintain competitiveness and boost exports. However, it took on another meaning. With the advent of QE (quantitative easing) programs introduced by global central banks, the terms now includes those programs as well. QE programs had mixed results. The US had the best success utilizing QE.
Article continues below advertisement
Easing measures attempted by various countries
Japan was the first to attempt easing measures in 2010. However, it wasn't effective. Japan tried again in 2013. It reinforced an asset purchase program of 60–70 trillion yen a year under Shinzo Abe's regime. Since then, the yen continued its slide against the US dollar.
Europe entered the currency war in mid-2012. It's currency, the euro, has been treading south since then. The United Kingdom started as early as mid-2010. However, the effect of the easing measures remained muted up to 2014.
US has been successful in its easing measures
In comparison, the US has been successful in its three easing measures. The easing measures started in November 2008, November 2010, and September 2013, respectively. The easing helped economic recovery and growth.
This is evident in the continuous upward trend in the SPDR S&P 500 ETF (SPY) and the Vanguard S&P 500 ETF (VOO). The ETFs represent the US economy. They're invested in major large-cap US companies—like Apple (AAPL), Microsoft (MSFT), and ExxonMobil (XOM). These companies command a 3.8%, 1.8%, and 2.1% share in both SPY and VOO.
The US dollar depreciated alongside the easing measures. We'll discuss this in more detail later in this series.
In the next part of this series, we'll discuss how currency depreciation helps boost growth.