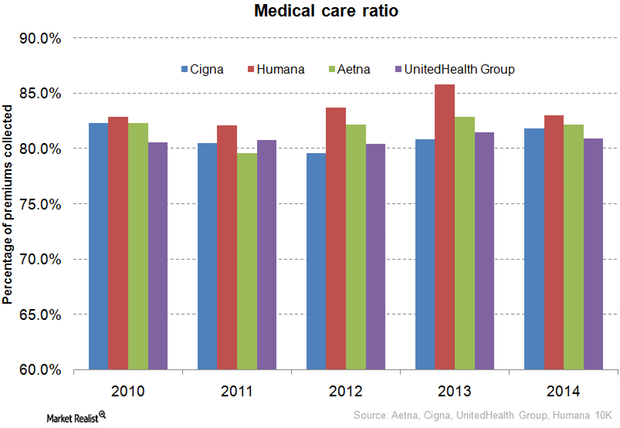 Cigna's Medical Care Ratio Ticks Upward
By Margaret Patrick

Dec. 4 2020, Updated 10:53 a.m. ET
Medical care ratio
The medical care ratio of health insurance companies (IYH) is the ratio of total money spent on healthcare claims to premiums earned, adjusted for tax and regulatory expenses. A smaller medical loss ratio indicates a higher profit margin.
The above graph shows that Cigna's (CI) medical care ratio is lower than that of Humana (HUM) and Aetna (AET) but higher than that of UnitedHealth Group (UNH). For more about the medical care ratio, read Why the Affordable Care Act hurts the managed care industry.
Article continues below advertisement
Commercial medical care ratio
Effective 2014, the ACA (Affordable Care Act) imposes an annual health insurance fee on private health insurance companies. Revenues earned from self-insured enrollments are exempt from this fee.
Health insurance companies pass the fee on to their fully insured customers in the form of increased premiums, and in this way, control the outflow of cash. To learn more about self-insured and fully insured enrollments, please refer to the Shift to self-insurance plans affects health insurance stocks.
In 2014, Cigna's medical care ratio for its commercial fully insured business was 81.8%, an increase from 81.5% in 2013. This rise is mainly attributed to an overall rise in medical service use among individuals enrolled through public and private exchanges.
Limited health benefit plans offer some degree of health insurance coverage at lower premium levels. With the ACA introducing public health exchanges to make available a variety of health plans at affordable rates, Cigna has had to exit its limited health benefits business. These activities were no longer competitive in the current market scenario. The corresponding loss of premium revenues again pushed up Cigna's commercial medical care ratio.
These upward pressures were, however, substantially offset by the inclusion of health insurance fees in the premiums of Cigna's fully insured enrollments.
Pharmacy medical care ratio
Cigna's Medicare Part D medical care ratio—or, the medical care ratio concerned with the company's Medicare prescription drug enrollments—increased from 82.3% in 2013 to 86.3% in 2014. An increase in the prices of specialty drugs, especially hepatitis C drugs, contributed to the hike in the ratio of these enrollees.