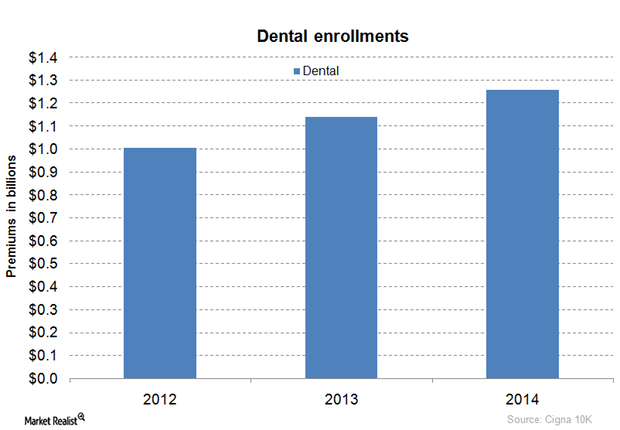 Cigna Increases Dental Specialty Health Insurance Premiums
By Margaret Patrick

Apr. 7 2015, Updated 6:07 p.m. ET
Specialty health insurance
Aside from the standard healthcare policies, players in the private health insurance industry also offer specialty insurance. This type of insurance focuses specifically on dental, vision, behavioral health, disability, and critical illnesses such as cancer, heart attack, and renal or kidney failure. Members who are more prone to critical illnesses tend to buy specialty insurance.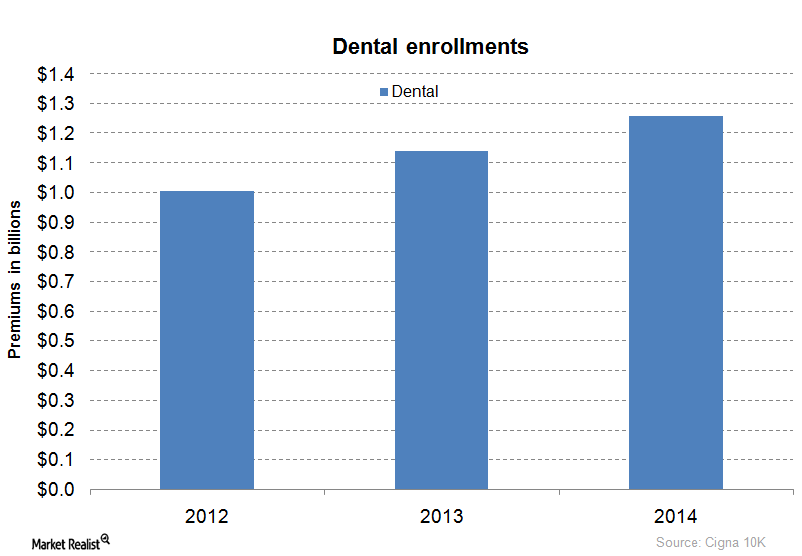 The above graph shows Cigna's dental plan premiums have increased by 11.8%, up from $1 billion in 2012 to $1.2 billion in 2014. Cigna also provides behavioral health and vision coverage, though the premiums are substantially lower than those earned on dental plans.
Article continues below advertisement
Dental insurance
Health insurance companies (IYH) provide specialty insurance services through managed care offerings such as HMOs (health maintenance organizations) or PPOs (preferred provider organizations).
Cigna offers dental services such as dental HMO (dental health maintenance organization plans) in 37 states, dental PPO (dental preferred provider organization plans) in 48 states and the District of Columbia, exclusive dental provider organization plans, traditional dental indemnity plans, and dental discount programs. To learn more about the different types of health insurance plans, read Making sense of health insurance types: An investor's guide.
The majority of Cigna's dental plans are self-insured plans, meaning the plan sponsor assumes the responsibility of future claims. The company has large dental networks, with 134,000 dental PPO health care professionals and 20,000 dental HMO health care professionals.
Behavioral health
The ACA (Affordable Care Act) stipulates that coverage for mental health and substance abuse treatment must be included in healthcare insurance plans sold on public health exchanges. As a result, major health insurance companies such as Aetna (AET), Humana (HUM), Cigna (CI), and UnitedHealth Group (UNH) offer behavioral health insurance services to their enrollees. Cigna's behavioral health provider network consists of 89,000 participating behavioral healthcare professionals and 11,400 facilities and clinics.
Vision
Cigna offers PPO coverage for vision-related ailments, with 69,700 healthcare providers in over 24,800 locations. The network consists of private practice ophthalmologist and optometrist offices and retail eye care centers.