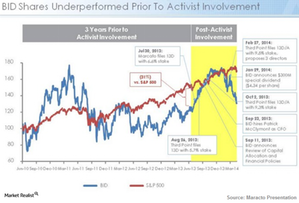 CEO of Sotheby's Resigns amid Activist Pressure from Third Point
By Stuart McKenzie

Updated
Third Point's push for changes
As discussed earlier, Sotheby's (BID) is facing activist pressure from its second-largest shareholder, Marcato Capital. Citing nonexistent or poor returns on capital, the fund is seeking a $500-million share buyback and a replacement of the company's chief financial officer.
Sotheby's has not been a stranger to activism. Daniel Loeb's activist hedge fund Third Point urged the company to make changes last year. Third Point is the largest shareholder in Sotheby's. The fund's other activist targets include Amgen (AMGN), Dow Chemical (DOW), and CF Industries Holdings (CF).
In 2014, Third Point made a call for Sotheby's then-CEO and chairman William Ruprecht to resign amid concerns regarding the strategic direction and leadership of the company.
Article continues below advertisement
Loeb said Sotheby's was unable to keep itself abreast of shifting trends within the art market and alleged that the company had been indulging in management excesses. The lack of a well-defined, effective Internet sales strategy and the poor faring of Sotheby's in newer markets such as the Middle East and China were other points raised by Third Point. Loeb added that William Ruprecht, the CEO of Sotheby's, had failed to comprehend the importance of contemporary and modern art to the company's growth strategy and stressed that the greatest potential existed within this area.
A presentation from Third Point also compared Sotheby's to its privately held rival Christie's. Third Point noted that "Relative to Christie's only, Sotheby's had approximately 46% market share in auctions in 2013 versus approximately 54% for Christie's."
Resignation of CEO
In May 2014, Sotheby's offered board seats to Loeb and his two nominees following months of pressure. Third Point "agreed to customary standstill and voting commitments and terminated its proxy contest." Sotheby's said it would "accelerate the termination of its one-year shareholder rights plan."
Six months after Loeb's appointment to the board, Ruprecht, the CEO of Sotheby's, stepped down from his post. The auction house's shares jumped 4% on the day of this announcement.
As mentioned earlier in this article, activist pressure from Third Point involved demands for "new leadership, better accountability, and increased transparency" at Sotheby's.
Sotheby's has a 0.14% exposure to the iShares Russell 2000 ETF (IWM).
In the next part of this series, we will examine Sotheby's lack of an effective Internet strategy.