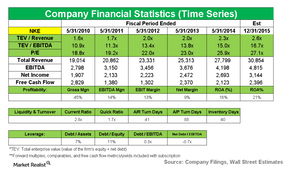 Caxton Associates increases its NIKE holdings by a whopping 550%
By Stuart McKenzie

Updated
Caxton's holdings in NIKE
As per Caxton Associates' recent 13F filing, the fund has increased its holdings in NIKE (NKE) from 20,000 shares in its 3Q14 portfolio to 130,000 shares in its 4Q14 portfolio, representing more than a fivefold increase. The fund's holdings in NIKE represent 0.97% of its 4Q14 portfolio. NIKE is a component of the Ultra S&P 500 ProShares ETF (SSO) with a representation of 0.15%.
Article continues below advertisement
A brief overview of NIKE
NIKE sells, markets, develops, and designs athletic accessories, equipment, apparel, footwear, and services. The company sells athletic apparel and footwear throughout the world via NIKE-owned stores, Internet websites, and also via licensees and distributors throughout the world.
Strong fiscal second quarter financial performance
NIKE's revenues increased 15% to $7.4 billion. Revenue increased 18% on a currency-neutral basis with the Converse brand increasing 24% and the Nike brand growing 17%. Golf was the only product category that didn't see growth. Net income and diluted EPS witnessed rises of 23% and 25%, respectively, reflecting gross margin expansion and strong revenue growth. The increase in diluted EPS was also partially fueled by the company's repurchase of 5.1 million shares for ~$425 million, as a part of a $8 billion program spanning four years.
Article continues below advertisement
The company experienced only single-digit growth in future orders, amounting to 7%, which contributed to a decline in NIKE's share price following the release of the second quarter results. However, it's important to remember that barring currency changes, there would have been an 11% increase in reported orders.
NIKE offered a 1-year total return of 25% while Under Armour (UA) offered a total return of 36%. Skechers (SKX) offered a whopping 102%, while Footlocker (FL) offered a 36% total return over the last year.
How the direct-to-consumer channel is fueling NIKE's growth
As per research by Trefis from January 27, 2015, the revenues for NIKE's direct-to-consumer (or DTC) segment grew by 30% during fiscal 2Q15 due to strong growth in online sales and strong growth in comparable stores. Since the company doesn't have any obligations to share its revenues with intermediaries, the DTC segment is a high margin segment.
NIKE expanded nike.com's footprint during fiscal 2Q15 by launching e-commerce sites in Brazil and Japan, which is the third largest market for e-commerce in the world.
The next part of the series will look at Caxton's increase in Mondelez International.