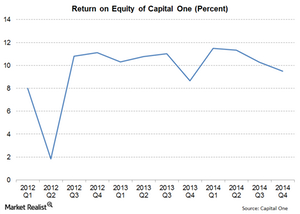 Capital One's return on equity improved from subprime lows
By Saul Perez

Mar. 5 2015, Updated 9:30 a.m. ET
Return on equity is an important parameter for shareholders
Return on equity, or ROE, is the percentage of return that a shareholder gets. ROE can be decomposed into two other variables. The variables are return on assets and leverage ratio. All else remaining constant, it's better for a bank to have a high ROE.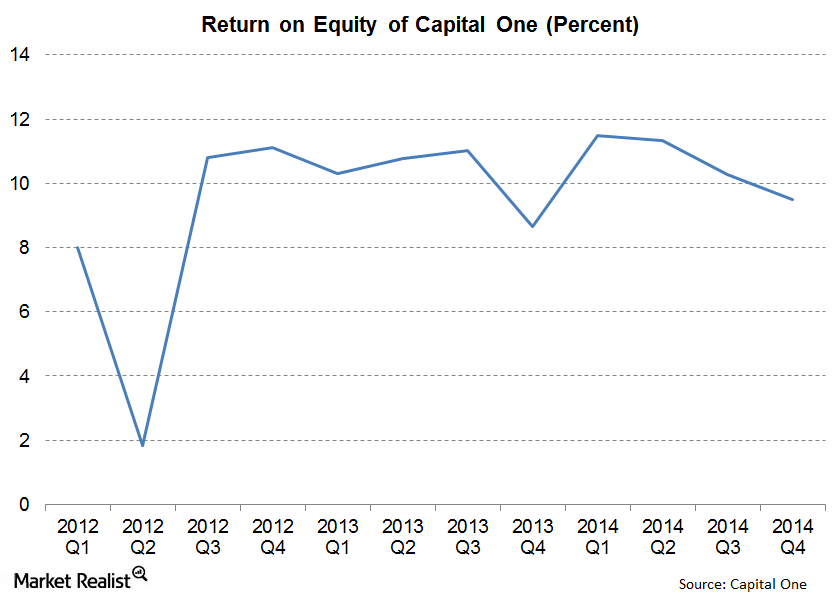 However, a bank may also increase its ROE by taking higher risks—for example, disbursing high-risk loans. Therefore, a degree of caution should be exercised when you look at ROE. Banks' high ROE should ideally be a result of a high return on assets and well-managed leverage. The efficiency ratio is a proxy for well-managed leverage. As a result, banks with a combination of a high ROE and a low bank efficiency ratio are the best.
Article continues below advertisement
Capital One return on equity has stabilized now
Capital One (COF) saw a sharp fall in its ROE during the subprime crisis. In a few quarters, the ROE even fell to negative. This was mainly due to increases in non-performing assets. Since then, the bank has been able to improve its ROE. The bank has a return on assets close to 1.45%. Its leverage of nearly 6.75 is largely in line with the efficiency ratio of close to 60%.
As a result, its average ROE was nearly 10% over 2014. This is good and sustainable. The bank needs to manage its non-performing assets to continue having a healthy ROE in the future. The Federal Reserve's nod to stock buybacks over last few years is also an indicator of the bank's strong financial condition.
Other banks like Wells Fargo (WFC), U.S. Bank (USB), and PNC Bank (PNC) also have a strong ROE. Capital One compares favorably with them on ROE. The three banks account for 12.93% of the Financial Select Sector SPDR (XLF).