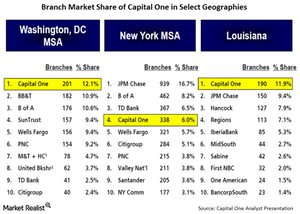 Capital One: A geographical focus is the way to go
By Saul Perez

Mar. 5 2015, Published 9:30 a.m. ET
Financials are outcomes of strategy and its execution
Until now, we've mainly analyzed Capital One's financials. However, financials are nothing but outcomes. Financials are the outcomes of strategy and companies' execution of the strategy.
A lot of time is spent analyzing financials, and rightly so. It's equally or even more important to know the elements of the strategy. Analyzing the strategy is even more important for a long-term investor. It wouldn't be remiss to say that if a long-term investor is sure of the strategy's success, the financial analysis can be skipped.
In this part and the next few parts of this series, we'll look at the most important elements in Capital One's (COF) strategy.
Article continues below advertisement
Capital One should continue to follow a geographical focus
The most important element in Capital One's strategy is a strong geographical focus. Capital One is a much smaller bank compared to the big four banks. The bank's size dictates that it shouldn't spread its growth thin over a large area. Instead, it's beneficial to concentrate its limited assets into geographies where the bank is strong. Then, the bank should be able to generate free capital from such a strategy. This free capital should be used to fund an increased foothold in areas with good potential.
Capital One is strong in the geographies it operates in
Capital One follows this strategy. An example for three geographies is given in the above chart. By following this expansion strategy, Capital One is similar to U.S. Bank (USB) and PNC Bank (PNC). These two banks form 4.29% of the Financial Select Sector SPDR (XLF).
Capital One can't aim for a network like Wells Fargo (WFC) or JPMorgan Chase (JPM) too soon. As a result, sustainable growth in the network will work best for it. If it tries to grow too fast and too soon, investors should become wary.