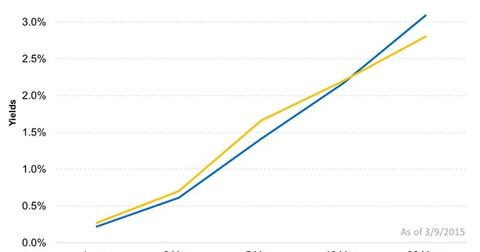 Why You Should Avoid The Extremes Of Municipal Bonds
By Peter Hayes

Updated
Tips for Investors
Against this backdrop, we'd offer a few key recommendations for investors:
Observe the curve.
Yield curve positioning will be very important in 2015. The short end will be harder hit as the Fed raises rates. Greater value and lower volatility can be achieved further out. We like the 12- to 17-year area.
Avoid the extremes.
Don't take on more risk than you can stomach, either by extending too far out on the curve and/or by taking excessive credit risk. At the same time, don't get too defensive. There's no value to be gained in exiting the market and holding cash today.
Article continues below advertisement
Market Realist – Avoid the extremes of municipal bonds.
The graph above shows the yields on various maturities of US Treasuries (TLT)(IEF) and US municipal bonds as of March 9. Municipal bonds are steep at the long end of the curve. On the short-term side, though, the municipal bond yield is lower than the Treasury yield (SHY). This could mean that short-term municipal bonds are expensive. Thirty-year municipal bonds are providing a decent tax-adjusted yield today, as we saw in the last part of this series. However, they involve a higher interest rate risk, and you should avoid them if your risk profile doesn't allow for this greater risk.
Market Realist – Holding cash is risky in the long run.
Although holding US dollars (UUP) could benefit you when stock markets are down, holding them over the long term is a big no-no, as we discussed in the previous part of this series.
Firstly, you lose spending power, as the graph above shows. If you've been holding $1,000 since 2005, it would be worth only around $810 today. This is because inflation eats into your purchasing power over time. You would have lost close to 19% if you had used that strategy. We've employed year-over-year inflation rates based on the CPI (consumer price index) for the graph above.
Secondly, you would have lost the opportunity to get the decent gains that equities provide. If you had invested the same $1,000 in the S&P 500 (SPY)(VOO), you would have earned returns of 67%. Although equities are more volatile than most other assets, they do tend to provide the best returns over the long term. Even investing in fixed income could prove to be a better choice.