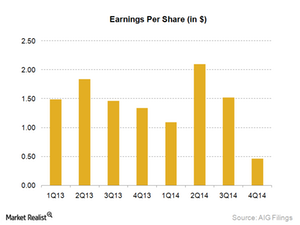 AIG's net income down in 4Q14, insurance operations earnings flat
By Sean Millard

Updated
Drop in net income
In 4Q14, American International Group (AIG) reported a decline in net income. The drop, from $2.0 billion in 4Q13 to $655 million in 4Q14, was due to an after-tax charge of around $800 million for debt retirement activities.
In per-share terms, the negative impact was of $0.58 per diluted share, compared to an earnings per share of $0.46 after taking this charge into account.
Operating income of AIG's insurance operations, on the other hand, remained flat in 4Q14 when compared to 4Q13, despite a negative impact of an over $100 million charge for changes in insurance reserves in these segments in 4Q14. In this series, we'll take a detailed look at AIG's 4Q14 and fiscal 2014 performance.
Article continues below advertisement
AIG basics
AIG is one of the largest insurers in the United States. AIG's annual revenue is around $70 billion, and the company operates across the globe in multiple product lines, outlined below.
Geared toward P&C
While property and casualty (or P&C) products dominate AIG's product portfolio, comprising over 65% of the revenue, close to 35% of its top line is derived from life and retirement products.
For more information on insurance products and the insurance business, please read our series, An investor's guide to the insurance business.
Article continues below advertisement
Geographic diversification
In terms of regions, AIG's top line remains diversified with revenue contributions by the Americas, Asia-Pacific and EMEA—or Europe, Middle East and Africa—region, shown in the chart above.
The Americas remain the major contributor toward AIG's top line, providing ~50% of property and casualty premiums and 97% of the life insurance revenues. In the US, AIG's competitors include ACE (ACE), Allstate (ALL), Chubb (CB), and insurers included in the Financial Select Sector SPDR ETF (XLF).
AIG's new leadership team, led by CEO and director Peter Hancock, took charge in September 2014 to integrate and position the company for improved and sustainable performance. Hancock has a strong track record in the financial services industry, and he was the CEO of AIG's property and casualty division before this role.
In the next article, we'll look at AIG's financial objectives.