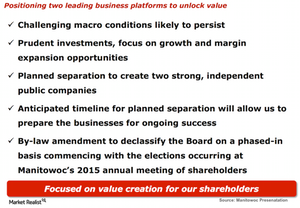 Will Manitowoc's spin-off create value for shareholders?
By Diana Key

Dec. 4 2020, Updated 10:53 a.m. ET
Manitowoc to split its businesses
Activist investor Carl Icahn disclosed its stake in Manitowoc on December 29, 2014, with intent to push the company to separate itself into two. In the previous parts of the series, we discussed Manitowoc's foodservice and cranes businesses, as well as the company's fourth quarter and full-year 2014 results.
Manitowoc's CEO, Glen Tellock, was not in favor of separating Manitowoc's foodservice business from its cranes business, because the cranes segment is "too prone to deep slums" to run as a standalone company. With the activist pressure, Manitowoc announced its intent to separate its foodservice business from its cranes business.
Article continues below advertisement
In year 2014, Cranes struggled amid challenges in demand for its products due to macroeconomic headwinds. Declining oil prices affected the cranes business further. In 2014, cranes revenue and operating earnings declined 8% and 25%, respectively. For year 2015, the company expects cranes revenue to decline by 4% to 6%.
Even the foodservice business as a standalone company will have a high debt due to the acquisition of Enodis in 2008 for $2.7 billion. Mr. Tellock acquired Enodis to diversify Manitowoc's cranes sales. As of December 31, 2014, Manitowoc reported a long-term debt of 1.4 billion.
Analyst views on spin-off
According to Deutsche Bank, Manitowoc's share could be worth between $23 and $28 if it separates its businesses. An analyst at JP Morgan noted that the timing is questionable, "as it is unclear where the upside is for a standalone crane business that is likely to see more downside in the near-mid term."