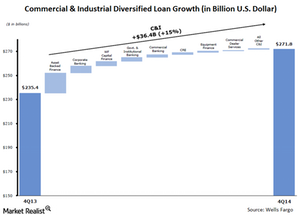 Wells Fargo's commercial loan segment is the star of 4Q14
By Saul Perez

Nov. 27 2019, Updated 7:03 p.m. ET
Commercial loans still an important Wells Fargo segment
Commercial and industrial loans include loans disbursed to businesses to carry out their business activities. Total commercial loans outstanding at Wells Fargo (WFC) stood at $414.83 billion at the end of 4Q14. This was nearly 48.09% of Wells Fargo's total loan book.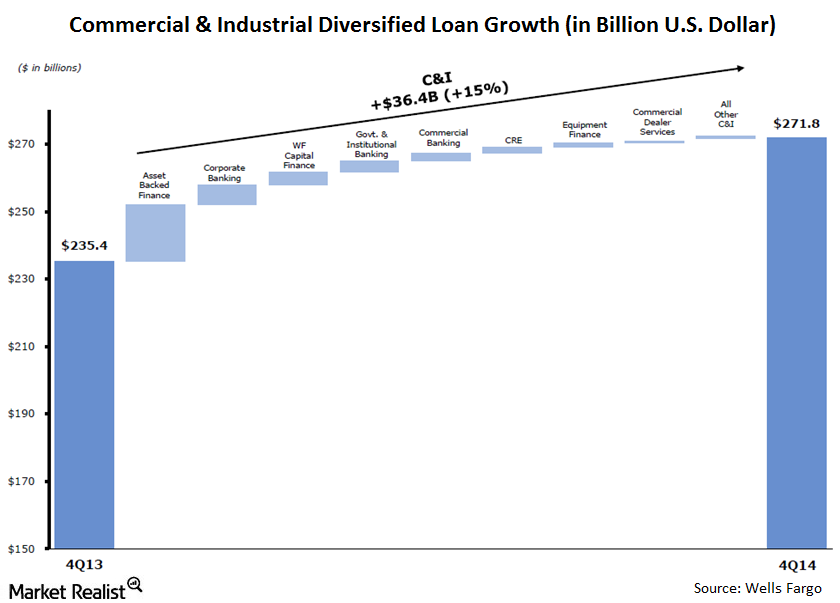 Article continues below advertisement
Commercial and industrial diversified loans are the star in 4Q14
You can see in the chart above that Wells Fargo's commercial and industrial diversified loans grew at a very fast rate in 4Q14. This was more than any other loan segment. The segment grew by $34.4 billion compared to 4Q13, a robust increase of nearly 15%. Many types of loans included in this segment contributed to the rapid growth.
Asset-backed finance loans grew the most
The most important among Wells Fargo's commercial loans is the asset-backed finance loan. These loans are generally taken by a company when it cannot access other means of financing such as debt issuance and equity financing.
Keep in mind that most of these loans carry a lower interest rate because they're backed by assets and thus more secure. Growth in asset-backed finance loans included $6.5 billion from financing related to government guaranteed student loan sales.
Wells Fargo, JPMorgan (JPM), and Bank of America (BAC) remain strong in asset-backed finance loans. Corporate banking and capital finance were two other types of loans that grew at a fast clip in 4Q14.
The overall balanced and strong loan growth makes Wells Fargo well placed to benefit in the future. No wonder Wells Fargo is one of the most important stocks in the portfolios of large ETFs. Wells Fargo is the second largest holding in the portfolio of the Financial Select Sector SPDR (XLF), one of the highest traded ETFs.