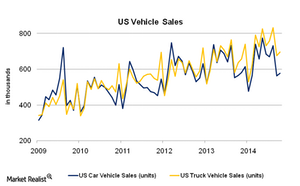 The US automotive industry's big guns are declining
By Henry Kallstrom

Updated
The "Big Three" Detroit automakers
Detroit automakers General Motors (GM), Ford (F), and Chrysler (FCAU) were previously known as the "Big Three." In recent years, their market shares fell considerably.
Today, five major players have a combined share of about 70% of the US market in terms of units sold. General Motors still leads the pack with a market share of 17.8%. However, its share has been decreasing consistently. It came down from 24.4% in 2006 to 17.8% today. Ford managed to hold the second spot with a market share of 14.9%. Toyota (TM) is behind Ford with a 14.5% market share. Chrysler and Honda (HMC) have 12.5% and 9.4% shares, respectively.
The First Trust NASDAQ Global Auto ETF (CARZ) allows investors to gain access to global automakers.
Article continues below advertisement
Truck sales are higher than car sales
The competition between light trucks and cars characterizes the US automotive market. Over the past four years, consumers steadily moved towards SUVs and light trucks as their preferred mode of transportation. Compact SUVs led this change. They offer greater flexibility, larger cargo space, and more confidence behind the wheel.
In 2009, cars had a share of 52.2%. They had sales of 5.4 million units. This share slipped to 48.8%. In 2013, trucks captured the light vehicles market with sales of 7.9 million units. Truck sales grew at a compound annual growth rate, or CAGR, of 12.4% from 2009 to 2013. During the same period, car sales grew at a CAGR of 8.6%.
The "Big Three" managed to capitalize on this swing towards SUVs and pickups through Ford's F-Series, GM's Chevrolet Silverado, and Chrysler's Ram Truck. For 2014, the F-Series had unit sales of 753,851. The Silverado achieved unit sales of 529,755. Ram Trucks sold 439,789 units.
Currently, F-Series trucks are the best-selling vehicles in the US. Ford is developing an aluminum-bodied F-150. It expects to roll out the new truck by the beginning of 2015.
In the next part of this series, we'll discuss consumer preferences.