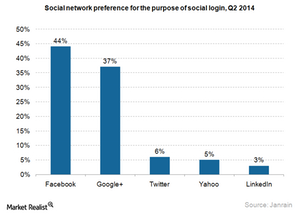 Twitter's (TWTR) App Graph captures user data to improve ads
By Patricia Garner

Updated
Twitter attempts to improve users' timeline
Last month, Twitter (TWTR) announced that it will track users' installed apps on mobile devices to tailor ad content. This collection of data is called App Graph.
Twitter said it's only collecting the list of the applications that are installed and not the data within the applications. Twitter is using the App Graph approach to customize users' experience by improving users' "who to follow" recommendations and connecting them with people who have similar interests, by showing relevant promoted content, and by adding content to users' timelines—like tweets and accounts that Twitter thinks users will find interesting.
Twitter also said that it respects users' decisions to opt out of interest-based ads by turning on "Limit Ad Tracking" on their Apple (AAPL) iOS device or by adjusting their Google (GOOG)(GOOGL) Android device settings to "Opt out of interest-based ads."
Article continues below advertisement
Twitter isn't the only social network collecting information about apps installed on users' devices. Facebook (FB ) collects similar data—although only from apps that have its code, known as a "software development kit." Read more about this approach in Market Realist's How Facebook and other social networks monetize users' data.
Based on a TechCrunch report, Twitter will now have a better understanding of its users' behavior. It can, accordingly, improve timelines with better and more relevant content. This change will help Twitter grow and retain its user base of signed-in users, which translates into an improved bottom line.
It will also improve interest-based ad targeting capabilities and allow advertisers to reach very specific users based on the apps they like and use and which games they like to play.
Internet companies try to capture as much user data as possible
According to a report from Janrain and as the above chart shows, Facebook (FB) and Google+ (GOOG) are the top two social networks that users prefer for social logins, with market shares of 44% and 37%, respectively. Twitter (TWTR), Yahoo (YHOO), and LinkedIn (LNKD) are some of the smaller players in this market.