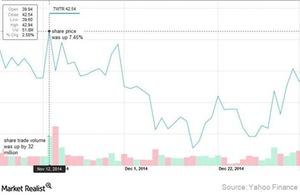 Twitter stock (TWTR) is up after CEO promises new features
By Patricia Garner

Dec. 4 2020, Updated 10:53 a.m. ET
Investors liked CEO's plans at Analyst Day
Twitter stock (TWTR) was up 7.45% after Twitter's CEO's presentation at Analyst Day on November 12, 2014. Twitter's investors like what they heard.
Twitter's CEO, Dick Costolo, promised to introduce some new features and products to Twitter in order to pick up its slow user growth, enhance user experience, and increase the company's revenues.
According to the Wall Street Journal, users can expect six new features from Twitter (TWTR) in Q4.
Article continues below advertisement
New apps
Twitter will invest in new apps as it has done with Vine, which lets users share short video clips. It's a multi-app strategy that Facebook (FB) and others have adopted over the past year to ensure their relevance.
Private messaging
Twitter has fallen behind other big Internet companies and apps like Facebook, WhatsApp, and Tencent's (TCEHY) WeChat in private messaging. Twitter's direct messaging function lets users send messages and photos privately to people who follow them.
Article continues below advertisement
Shareable video
As of now, Twitter allows users to share only graphics interchange format (or GIFs) and six-second clips via Vine or share links to video. The new service will soon let users upload, edit, and share videos in real time on Twitter. It's a huge untapped area dominated by Facebook and Google (GOOGL)(GOOG).
Missed tweets
Twitter users often complain that they miss good tweets when they're offline. Since the timeline is set in reverse chronological order, it takes time to scan through hundreds of tweets to see what they missed. A new "while you were away" feature will highlight relevant tweets that users might have missed.
Article continues below advertisement
Instant timeline
Twitter continues to try to simplify the sign-in process for new users. In the past, new users, when they signed up, had to choose accounts they were interested in. Typically they were left with a timeline with few tweets. Twitter is now introducing what it calls the "instant timeline" that will automatically display tweets from people the service suggests they follow, based on preferences.
Location
Twitter said it will make greater use of location beyond just tagging where a user is when they're tweeting. The company hinted that it might highlight tweets organized around locations, such as where a person is or places that they care about—like their hometown.