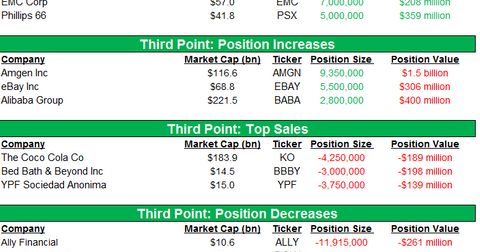 Third Point's fourth quarter portfolio: Tale of the tape
By Santiago Solari

Updated
Third Point
Founded by activist investor Daniel Loeb, Third Point is a hedge fund with over $4 billion assets under management. Daniel Loeb's hedge fund has built its reputation over the years for taking positions in mismanaged or distressed companies and subsequently maximizing shareholder value by making them into leaner and more efficient entities.
Article continues below advertisement
Run-of-the-mill performance
The fund's portfolio size decreased by ~27% from the third quarter to $11.1 billion at the end of 4Q14. The fund had a rather lackluster year in 2014, as its offshore and ultra funds delivered a mediocre 5.7% and 6.8%, respectively, compared to S&P 500's return of 13.7% for the same period. In stark contrast, the fund's returns since its inception in 1995 on average have outperformed the market, delivering an annualized return of 17.3% compared to S&P's 7.7%.
In its fourth quarter investor letter, the fund attributed the performance in 2014 to a combination of poor trading during market volatility and bad judgment in exiting positions.
Investors seeking to replicate the performance of a broad market index like the S&P 500 can consider the SPDR S&P 500 ETF (SPY). The  ETF constituents have a portfolio allocation that is identical to the S&P 500. The ETF's top holding is in Apple (AAPL) with a portfolio weight of 4.03%.
Fund highlights
During 4Q14, the fund added a new position in Citigroup (C), EMC (EMC), and Phillips 66 (PSX). As of 4Q14, the fund held 5 million, 7 million, and 5 million shares in those three companies, respectively. The fund increased its position in Amgen (AMGN) by 9.4 million shares to 10.7 million shares, and the stake was worth over $1.7 billion at the end of the year. Third Point also increased its exposure to e-commerce companies Alibaba Group (BABA) and eBay (EBAY) by 2.5 million and 5.5 million shares, respectively.
The fund reduced its positions in Ally Financial (ALLY) and Dow Chemical (DOW). The fund's top exits in 4Q14 included positions in Coca-Cola (KO), Bed Bath & Beyond (BBBY), and YPF Sociedad Anonima (YPF). The above table summarizes the major changes in the fund's portfolio during 4Q14.
Loeb adds stake in Fanuc
During the fourth quarter, Daniel Loeb's fund added a new position in Japanese robotics company Fanuc, and urged the company to initiate a buyback program. In its letter to investors dated February 9, 2015, the fund praised Fanuc's product approach by comparing it to Apple's strategy. Third Point said the company's productivity, which is considered to be the highest in the world, as well as its illogical debt-free capital structure make it an attractive investment.