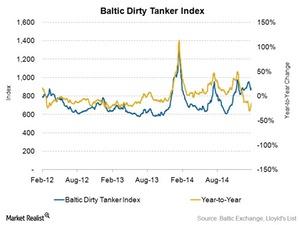 Tankships boasts strong management with years of experience
By Katie Dale

Updated
Establishes customer relationships
Tankships Investment Holdings Inc. (TNKS) believes that DryShips (DRYS) will benefit its long-term growth and success in the shipping industry. DryShips has established relationships with oil majors.
With the support of high-quality and efficient operations, Tankships could successfully satisfy the operational, safety, environmental, and technical vetting criteria of many of the world's major national oil companies.
Major companies in the industry (SEA) include Shell Oil Company, ExxonMobil, Chevron (CVX), BP Plc (BP), Total (TOT), and ConocoPhillips (COP). Now, Tankships' vessels are approved to perform charters for large oil traders—like TrafiguraBeheer BV and Vitol Group.
Article continues below advertisement
Enhanced customer service
Tankships believes that it's able to provide superior customer service. It has leverage with its manager's reputation for operational expertise and its comprehensive maintenance program. While energy companies seek transportation partners that have a reputation for high reliability, safety, and environmental and quality standards, Tankships is able to meet all of the requirements with DryShips' support.
Also, an experienced management team strengthens the company's foundation. It gives the company access to attractive acquisitions and chartering and vessel financing opportunities. George Economou will serve as its chairman, president, and CEO after the initial public offering, or IPO, is complete.
George Economou started his career in shipping after he graduated from the Massachusetts Institute of Technology with degrees in Naval Architecture and Marine Engineering and Shipping and Shipbuilding Management. Since he entered the shipping business in 1976, Economou founded and managed various companies. DryShips is a publicly listed dry bulk company. Ocean Rig UDW Inc. is a publicly listed offshore drilling company.
Anthony Kandylidis will be serving as the executive vice president. Ziad Nakhleh will serve as the CFO. Each of them has more than ten years of experience in the management and financial operations of shipping companies.