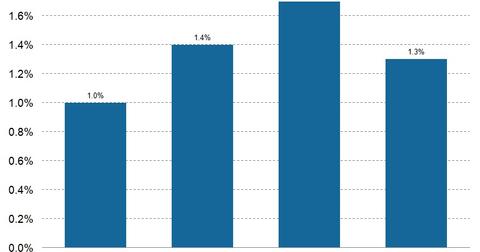 Southern used more natural gas due to costs and regulations
By Matt Phillips

Updated
Southern Company's generation mix
Most of Southern Company's (SO) 46,000 megawatts, or MW, consist of coal, natural gas, and nuclear power plants. These account for nearly 96% of Southern Company's total generation capacity. In addition, hydroelectricity accounts for 4% of Southern Company's capacity.
We'll discuss Southern Company's shift in fuel in 4Q14.
Article continues below advertisement
Southern's natural gas usage rises in 4Q14
In 4Q14, nearly 49% of the electricity generated by Southern Company came from natural gas-fired power plants. It was up from 42% last year. This came at the expense of other electricity generation sources—like coal and nuclear power. Southern Company's electricity generated from coal and nuclear power plants dropped to 31% and 16% in 4Q14—from 37% and 17% in 4Q13, respectively.
Southern Company's power generation from hydroelectricity remained constant at 4% of the total power output in 4Q14. Among the companies that are part of the Utilities Select Sector SPDR (XLU), Entergy Corporation (ETR), NRG Energy (NRG), and Xcel Energy (XEL) have high exposure to natural gas-based power plants.
Natural gas is favored 
There are two major factors that drive more electricity generation from natural gas sources—compared to coal and nuclear power plants. First, natural gas prices crashed by more than 50% in the past year. So, the costs associated with power generation from natural gas-fired power plants came down significantly. This tempted power producers to switch to natural gas.
The other reason is related to the stringent regulations on existing coal-based power plants to cut down emissions significantly by 2015. Recently, this led to the retirement or low capacity utilization of many coal-fired power plants in the US.