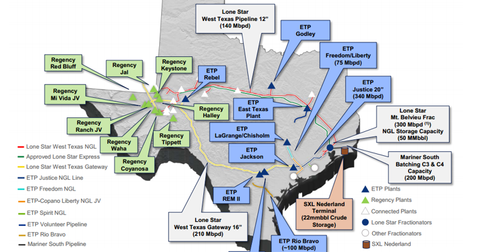 The Regency–Energy Transfer merger: Compelling reasons
By Keisha Bandz

Updated
How ETP benefits
Pro forma for the merger, Energy Transfer Partners (ETP) will become the second-largest MLP, after Enterprise Product Partners (EPD), per a company presentation.
Apart from increased operational efficiency and scale, the merger provides prospects for increased volume growth for the Lone Star joint venture between ETP and Regency Energy Partners (RGP). Lone Star owns midstream energy assets including NGL pipelines, storage, fractionation, and processing facilities located in Texas, New Mexico, Mississippi, and Louisiana. RGP owns 30% of Lone Star LLC. ETP owns the remaining 70%. The merger also provides an opportunity to move legacy PVR Partners' (PVR) and Eagle Rock Partners' (EROC) liquids volumes to Lone Star. RGP acquired PVR assets and EROC's midstream business last year.
The merger also enhances natural gas volumes into ETP's intrastate natural gas pipeline system.
The presentation also noted that ETP's PEPL (Panhandle Eastern Pipe Line Company), Trunkline and Rover pipelines, and Regency's assets are highly complementary.
Apart from adding diversity and strengthening its position, the deal will also create an opportunity for higher long-term distribution growth for ETP, which wouldn't have been possible on a standalone basis.
Article continues below advertisement
How RGP benefits
In a low commodity price environment, the merger provides immediate and long-term value to RGP unitholders. Regency will also benefit from the increased size and diversity of ETP's diversified platform while having improved access to capital.
How SXL benefits
Another key member of the Energy Transfer family, Sunoco Logistics Partners (SXL), will also gain positive synergies from the merger. As the merger positions Lone Star for further growth, like with the Fractionator IV, increased NGL or natural gas liquids production will support the Mariner South project, which integrates Sunoco Logistics' (SXL) existing Nederland terminal and pipeline from Mont Belvieu with Lone Star's Mont Belvieu fractionation.
ETP owns the general partner and the incentive distribution rights in Sunoco Logistics Partners. ETP's general partner is owned by ETE, which also owns the general partner of RGP. Most of these companies are components of the Alerian MLP ETF (AMLP), making up ~16% of the ETF.
How ETE benefits
Apart from boosting its pro forma credit profile, the merger will result in an "immediate increase in overall cash flow and long-term cash flow growth."